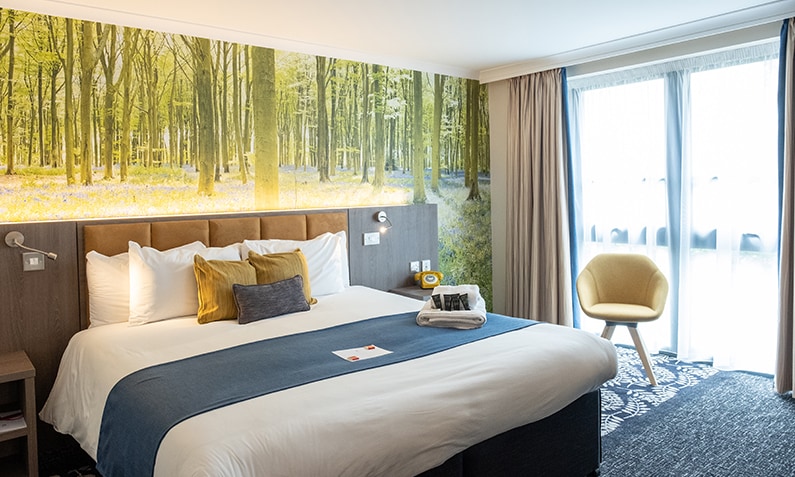 Burleigh Court Retains Visit England 4 Star status and Breakfast Award
3 Sep 2021
Imago Venues' flagship conference centre and hotel retains its accreditation and breakfast award with Visit England
Summary of Visit England Assessment:
Burleigh Court retains a Four Star Hotel rating after this year's assessment visit. Sectional scores continue to sit comfortably within the rating. The Silver Award and Breakfast Award are very well deserved and are recommended for another year. The debrief was carried out with Harry Kerr-King, Conference Manager, who is very happy to be maintaining the rating and awards achieved. After what has been a very challenging year for the hospitality industry, the hotel continues to present very well throughout with a smart finish. The bar and restaurant are currently undergoing a major refurbishment which will not only further enhance the appearance but also the guest experience.
Hospitality & Friendliness
Hospitality is a strength within the hotel with each member of the team coming across happy and upbeat. Overall very good guest interaction noted.
Service & Efficiency
Overall service was very good throughout with the team keen to provide a high level of service.
Cleanliness
High standards of cleanliness creating a positive impression for arriving guests and a credit to all involved. High and low-level ledges and fittings are dust and cobweb-free throughout. Lounge and dining furniture is well polished and seating is crumb-free. Tableware shines. Mixed flooring thoroughly vacuumed to skirtings and into corners, care also taken around bases of bathroom fittings. Sanitary ware clean and bright, glazed surfaces and chrome fittings polished to a shine; grouting and silicone sealant also presenting to a high standard.
Food Quality
The restaurant offers a table d'hote menu with something for all tastes and focusing on local produce. The dishes are very well executed and the presentation is neat. A bar and lounge menu is also available throughout the day and evening. Tempting and delicious choice of items on both the hot and cold buffet with items regularly refreshed.
Bedrooms
Bedrooms present in very good order throughout. Painted decor is very well maintained with feature walls further enhancing the overall appearance. High-quality carpets are continuing to wear very well and soft underfoot, with practical hard flooring laid at the entrance to bedrooms. Furniture is very good quality, complements each room and provides ample hanging and drawer space. Overall a very good amount of space is present in all bedrooms. Beds have a supportive, very good quality pocket sprung mattress and plump pillows. All of which are very well protected. Professionally laundered, crisp white excellent quality 100% cotton linen dress the beds. A very good choice of accessories includes a very well stocked hospitality tray. Guest information is now digitally available through the TV. Smart TVs and USB ports are also provided. Very well placed lighting and effective underfloor heating and ventilation, with fans provided.
Bathrooms
Bathrooms present very well. All have a well-lit and fresh presentation. The fully tiled and painted decor remains in very good order. Practical, high-quality flooring is very well maintained. Sanitary ware and fittings are very well maintained with sealant and grouting generally neat and tidy. Consistent shower pressure and temperature noted. A very good range of soft absorbent towels and Bee Kind toiletries are thoughtfully provided. Controllable towel rails are effective and extractor fans noted. Lighting is well placed.
Public Areas
A spacious reception with lounge area accessed through automatic doors helps create a very positive first impression. All corridors have smart wallpaper and carpeting. Public toilets are very well presented.
Exterior
Very well presented externally and having clear signage both from the road and within the grounds. Gardens and frontage are maintained in a very tidy condition. Ample secure parking provision in well-defined bays. The Leisure Suite presents very well.
Notes for editors
Imago Venues are Leicestershire's premier venue brand, combining year-round conference venues and hotels with Loughborough University's campus facilities.

They provide high-quality meeting spaces, venues and accommodation, along with world-leading sports and leisure facilities.
Its portfolio includes Burleigh Court Conference Centre and Hotel, Holywell Park Conference Centre, The Link Hotel, the Elite Athlete Centre and Hotel, and Loughborough University campus.
Multi-award winning venues including M&IT Gold for Best Academic Venue, Best UK Conference Centre, Best F&B Supplier, and Best Training Venue at the Academic Venue Awards.
Imago Venues are a wholly owned subsidiary of Loughborough University and Gift Aid their profits back to the University, contributing over £1m per year towards research and academic excellence on campus.
Imago Venues is part of The 5% Club which is a movement of more than 800 employers providing 'earn and learn' opportunities to develop the skills and talents people need to become more employable and create meaningful careers.
Subscribe to our newsletter