Exclusive use conferences
Larger groups can enjoy the privacy and freedom of exclusive use of Holywell Park Conference Centre. Having full use of every meeting room, breakout room, coffee lounge and restaurant during the event ensures that your delegates can truly make the venue their own and get down to business in a completely focused and distraction-free environment. Nestled in the heart of Loughborough University's Science and Enterprise Park, Holywell Park is an inspirational setting that is all about learning. We have even named all our meeting rooms after famous and influential engineers who broke barriers and pushed boundaries in their field. The venue is also surrounded by attractive grounds with green space and a lake which provides a tranquil backdrop for your conference.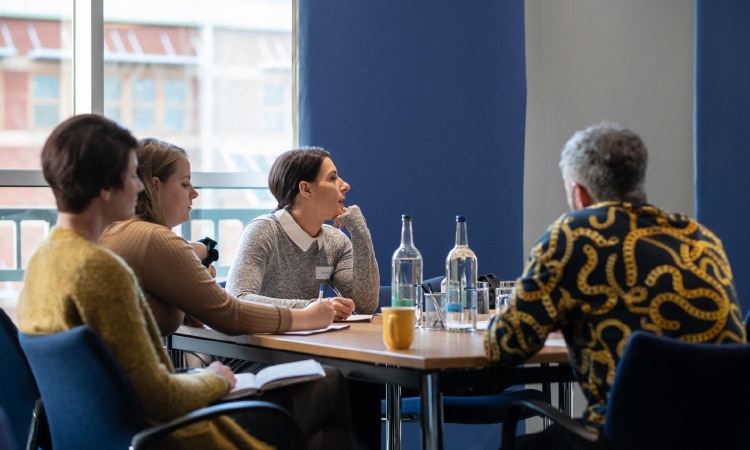 Making our space your space
At Holywell Park Conference Centre we build bespoke packages exclusively to your event needs and work with you to establish your exact requirements and the objectives you want to achieve from the event. With our exclusive use conference package, you'll be able to use every meeting room and conference space without other groups sharing the space, giving you an environment that is geared towards you and your learning outcomes.
Half and half
If the full venue is too big for your requirements, we also offer upstairs and downstairs only packages. If you just need a number of smaller training rooms to enable several working groups, then the upstairs package is designed for you. If you don't need multiple breakout spaces but need larger rooms to accommodate more people, as well as a separate space for speaker sessions, the downstairs package is perfect.
Our Exclusive Use Conference package includes:
Downstairs only and upstairs only option
Choice of purpose-built training/meeting rooms
Integrated AV equipment
Free 1Gbps Wi-Fi network
Complimentary syndicate room
Flipchart, whiteboard, stationery
Ergonomic seating designed for extended use
Air conditioning and natural daylight
Dedicated on-site support
2 tea and coffee breaks with pastries
2-course hot and cold lunch or working lunch boards
Constant supply of chilled water
Conference venue features
Flexible meeting spaces
From small syndicate rooms for 10 people boardroom style, to large conference rooms for 280 delegates
Ample free parking
All our venues have free secure parking spaces to accommodate all your conference delegates
Reliable Wi-Fi
Our super-fast 1Gbps Wi-Fi network has been tested up to 1500 simultaneous users
Breakout spaces
All our conference venues have breakout spaces that maximise networking opportunities between sessions
Bedrooms
A choice of 323 en-suite bedrooms for sole or twin occupancy across our venue portfolio
Quality catering
Our in-house team of chefs provide excellent nutritional dishes and can create bespoke menus that fuel your performance
Location
Easily accessible central location just 1m from Jn23 M1, 8m from East Midlands Airport, 75mins from London St.Pancras
World class sports facilities
As part of Loughborough University, we have access to the world's best sporting facilities, performance training and nutrition.
Choose your perfect conference venue
Use our handy Event Calculator to find the perfect space for your event. Select your package and dates > Configure your space and desired layout > Explore the matched spaces in our 360 virtual tours
Ask us about exclusive use: