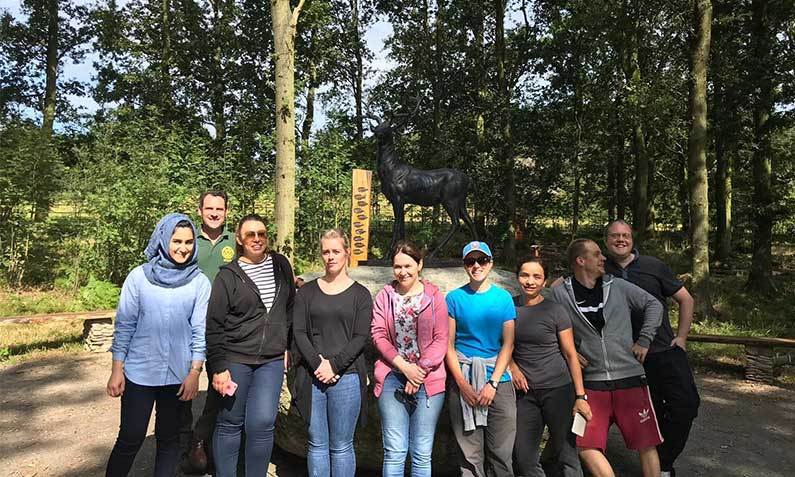 Community projects in Loughborough supported by Imago Venues
13 Sep 2019
Staff at Imago Venues have been supporting community projects in the Loughborough area as part of a two-week volunteering scheme.
A total of 66 employees took part in the volunteering fortnight which was set up by Imago's Charity Employee group. The group aims to ensure Imago is an integrated and supportive part of the community.
During the two weeks staff took on several jobs including: Painting, decorating, and serving breakfast at The Falcon Centre, a supported housing scheme; mucking out stables at Wenlo Riding for the Disabled Group; creating rose gardens and gardening at Connaught House, an extra care housing scheme; and painting and decorating function rooms at John Storer House, a community centre.
Lynda Harris, training and development coordinator, at Imago Venues said: "As a large employer in the local area, it is important to Imago that we do what we can to support and give back to the community.
"Taking part in some of the rewarding local community projects has boosted staff morale and given our employees a sense of achievement and a feeling of pride."
Staff also spent time clearing bracken at Bradgate Park, served food and cleared out space at the Wellbeing Café and carried out maintenance work at Charnwood Alpaca Farm.
Imago Venues is Loughborough University's conference and events arm. Its portfolio includes the Elite Athlete Centre and Hotel, Burleigh Court Conference Centre and Hotel, Holywell Park Conference Centre, the Link Hotel and Loughborough University Campus.
Notes for editors
Imago Venues are Leicestershire's premier venue brand, combining year-round conference venues and hotels with Loughborough University's campus facilities.

They provide high-quality meeting spaces, venues and accommodation, along with world-leading sports and leisure facilities.
Its portfolio includes Burleigh Court Conference Centre and Hotel, Holywell Park Conference Centre, The Link Hotel, the Elite Athlete Centre and Hotel, and Loughborough University campus.
Multi-award winning venues including M&IT Gold for Best Academic Venue, Best UK Conference Centre, Best F&B Supplier, and Best Training Venue at the Academic Venue Awards.
Imago Venues are a wholly owned subsidiary of Loughborough University and Gift Aid their profits back to the University, contributing over £1m per year towards research and academic excellence on campus.
Imago Venues is part of The 5% Club which is a movement of more than 800 employers providing 'earn and learn' opportunities to develop the skills and talents people need to become more employable and create meaningful careers.
Subscribe to our newsletter