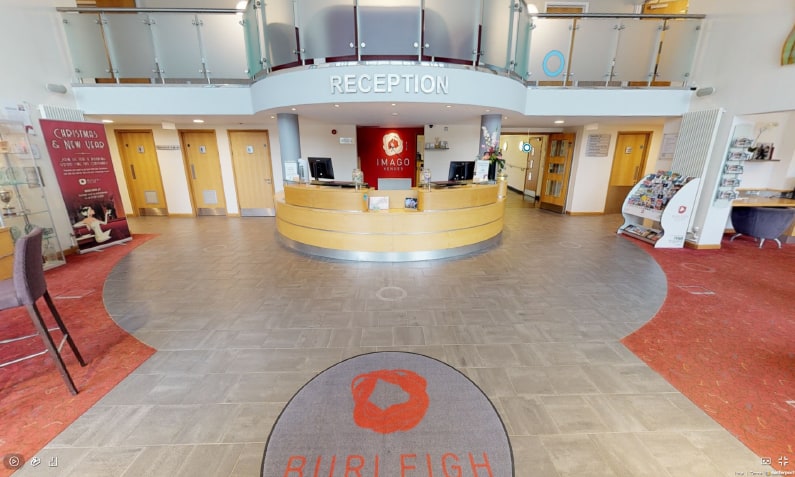 New immersive 360 virtual tour for Burleigh Court Conference Centre and Hotel
19 Sep 2019
We're all about delivering exceptional customer experiences in all areas of our business. That's why we are upgrading our customer experience, from the first engagement with our story through to conclusion.
Creating a positive first impression is an important start to building our future relationship with you and that first impression sets the tone for your entire experience with us.
That's why we have now embedded our cutting edge virtual 360 tour in the website to give a familiarity and authenticity to your pre-arrival experience - a sense that you already know us, before you arrive.
With our new 360 experience, you have access to all areas of Burleigh Court and can view every corner of each space. We've added a doll house functionality which opens a 3D model for you to drop into a room of choice, giving you a sense of layout, room proximity, breakout spaces and refreshment areas. You can choose what you want to see, and what direction you want to head in next. Having such detailed exposure allows us to communicate the fully immersive experience of what we can offer, just as if you were there, viewing it in person.
One of the key messages of our brand is that we don't sell products, we sell experiences - we're all about putting people together in the right environment to encourage communication and learning to grow. Sometimes, that message can be hard to qualify to prospective customers who need a reassurance that we'll deliver the experience they expect. With our new 360 VR tour, we can now deliver an authentic and fully immersive experience to our customer's personal device and let them know exactly what they can expect from their event.
Rob Chamberlain, Marketing Manager, Imago Venues
If you're an event organiser and want to familiarise yourself with our facilities, we'd always encourage you to see us in person to get the full Imago experience. A face-to-face appointment over lunch is a fantastic opportunity for us to talk and understand your objectives. However, we understand people are busy and can't always commit to time out of your busy schedule. So, why not let us bring our experience directly to you? Let us know if you'd like one of the team to schedule a formal virtual show round, otherwise, take a look for yourself!
See the Virtual 360 Tour
Notes for editors
Imago Venues are Leicestershire's premier venue brand, combining year-round conference venues and hotels with Loughborough University's campus facilities.

They provide high-quality meeting spaces, venues and accommodation, along with world-leading sports and leisure facilities.
Its portfolio includes Burleigh Court Conference Centre and Hotel, Holywell Park Conference Centre, The Link Hotel, the Elite Athlete Centre and Hotel, and Loughborough University campus.
Multi-award winning venues including M&IT Gold for Best Academic Venue, Best UK Conference Centre, Best F&B Supplier, and Best Training Venue at the Academic Venue Awards.
Imago Venues are a wholly owned subsidiary of Loughborough University and Gift Aid their profits back to the University, contributing over £1m per year towards research and academic excellence on campus.
Imago Venues is part of The 5% Club which is a movement of more than 800 employers providing 'earn and learn' opportunities to develop the skills and talents people need to become more employable and create meaningful careers.
Subscribe to our newsletter