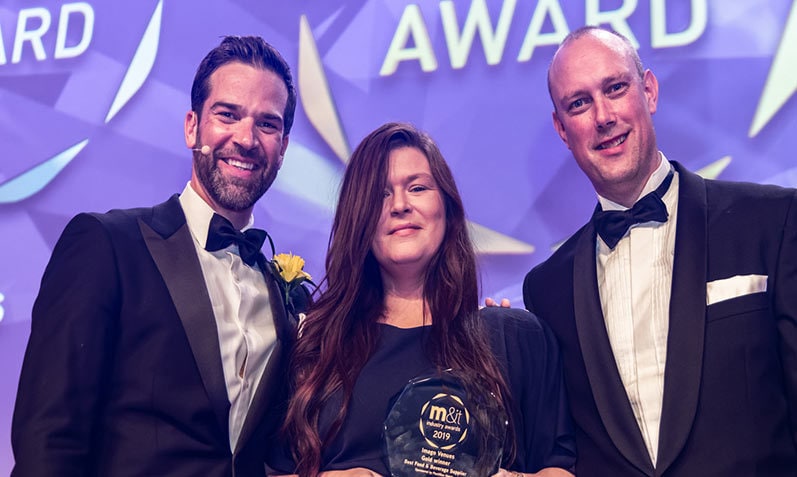 Hotel manager at Imago Venues shortlisted for miaList 2019
21 Jun 2019
A hotel manager at Imago Venues has been shortlisted for a prestigious award from the Meetings Industry Association (mia).
Sam Gardiner, who manages The Link Hotel - part of the Imago Venues portfolio, joins 20 other events industry professionals to be shortlisted for miaList 2019.
The awards recognise outstanding talent within the business meetings and events sector. They are for individuals who are integral in making the organisation they work for successful.
Sam Gardiner said: "It feels great to be shortlisted for the miaList2019 and to be recognised in this way. I'm lucky enough to work with a great team who are supportive and who always encourage you to progress and go above and beyond."

Jane Longhurst, chief executive of mia, said: "We were thrilled by the calibre of entries this year and to be able to reveal such a strong list of shortlisted candidates for our miaList 2019.
"We are very fortunate to have such a wealth of talent within our industry and it's an honour to be able to recognise and reward those who go above and beyond through our coveted miaList."
Of the shortlisted individuals, 10 will be named on the final list, which will be announced alongside the Leadership and Rising Star awards on 7 November, at Central Hall, Westminster.
The nominees will be judged by a panel of industry experts, including Robert Kenward, chief talent officer at You recruitment agency and Lacy Curtis-Ward CEO at The Lensbury.
The shortlisted individual nominees are:
Alex Penn, Event Exeter at the University of Exeter
Andrew Dixon, The Cookery School at The Grand, York
Ben Chatburn, Pavilions of Harrogate
Caroline Bull, CCT Venues
James Hunter, Hawthorn
James Mahaffey, New Place Hotel
Jenny Harding, Trinity Event Solutions
Jessica Winskill, The Grand, York
Jo Kenny, Lime Venue Portfolio
Joanne Wilson, ACE Bookings
John Gilbert, The Racing Centre
Jordan Lewis-Pryde, Ministry Venues
Lucy Ann Clarke, Manchester Central
Matthew Cogbill, Caper & Berry
Naveen Leer, Whittlebury Park
Philip Levy, Ashdown Park Hotel & Country Club
Renata Stiklinskaite, Hospitality Guaranteed
Sam Gardiner, Imago Venues
Sarah Tweddle, Hospitality Guaranteed
Wendy Alders, InterContinental London Park Lane
Yasmin Okerika, The Grand, Brighton
Notes for editors
Imago Venues are Leicestershire's premier venue brand, combining year-round conference venues and hotels with Loughborough University's campus facilities.

They provide high-quality meeting spaces, venues and accommodation, along with world-leading sports and leisure facilities.
Its portfolio includes Burleigh Court Conference Centre and Hotel, Holywell Park Conference Centre, The Link Hotel, the Elite Athlete Centre and Hotel, and Loughborough University campus.
Multi-award winning venues including M&IT Gold for Best Academic Venue, Best UK Conference Centre, Best F&B Supplier, and Best Training Venue at the Academic Venue Awards.
Imago Venues are a wholly owned subsidiary of Loughborough University and Gift Aid their profits back to the University, contributing over £1m per year towards research and academic excellence on campus.
Imago Venues is part of The 5% Club which is a movement of more than 800 employers providing 'earn and learn' opportunities to develop the skills and talents people need to become more employable and create meaningful careers.
Subscribe to our newsletter