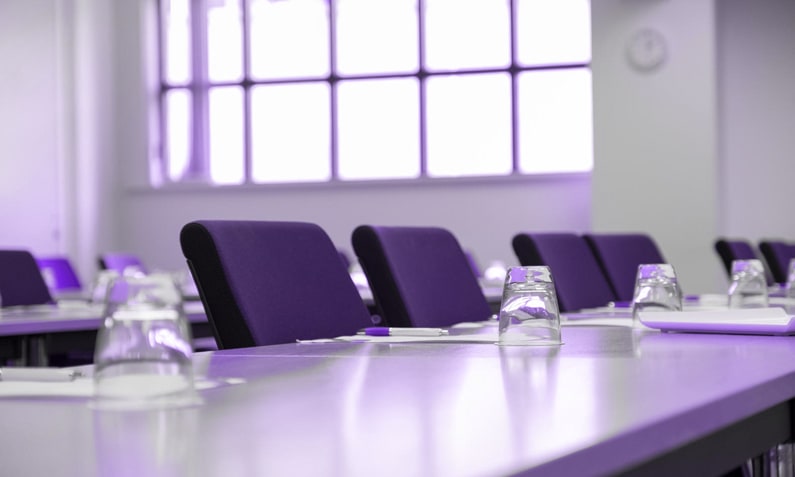 Business meetings of up to 30 permitted from 1 August, Government confirms
22 Jul 2020
Meetings of up to 30 people indoors in England will be permitted in certain venues from 1 August, if social distancing can be maintained and the venue can demonstrate that it has followed the official Covid-19 guidance, the Government has confirmed.
Events and hospitality association, the HBAA, yesterday confirmed that the government's guidance permits meetings of up to 30 people to now take place, with general events being able to commence from October 1st.
The return date of 1 October is conditional on the rate of infection staying at a manageable level.
Following the announcement, a number of pilot events will take place at event venues across the country to plan for a return to large-scale events and test how best to implement social distancing practises. Details of these pilots will be finalised in partnership with the sector in the coming weeks.
New guidance, published by the Department for Digital Culture, Media and Sport (DCMS) and the Association of Event Organisers (AEO), will help event organisers, venue operators and participants in the UK understand how they can work and host business events and conferences and keep both their guests and staff safe.
Business meetings
Preventing the attendance of anyone who is symptomatic; has recently been symptomatic; tested positive for Covid-19; or if they are a contact of someone symptomatic or has been identified by the NHS Test & Trace programme as someone who has been a close contact of a case. See current guidance for people who have symptoms and those who live with others who have symptoms.

Avoiding the potential for transmission of Covid-19 during meetings, for example avoiding sharing pens and other objects.
Encouraging customers to use handwashing facilities or hand sanitiser (where washing facilities are not available) as they enter the premises to reduce the risk of transmission by touching products or surfaces.
Ensuring that meeting rooms are cleaned thoroughly between users and the frequent touch points such as door handles and surfaces are continuously kept clean through an event.
Ensuring that social distancing applies to all parts of a premises where the meeting is being conducted, not just the place where people spend most of their time, but also entrances and exits, break rooms, canteens and similar settings. These are often the most challenging areas to maintain social distancing.
Holding meetings outdoors or in well-ventilated rooms whenever possible. See below for more information on air ventilation.
Having socially distanced seating and/or spacing out any tables to meet social distancing requirements.
When indoors avoid those speaking doing so directly face to face with other participants whenever possible.
Taking steps to avoid loud speaking or shouting, such as not using background music and the use of microphones.
For areas where regular meetings take place, using floor signage to help people maintain social distancing.
Conferences and events
In addition to interventions above, the following mitigations should be meticulously applied when planning business and consumer trade events:
Crowd Density Standard: at a capacity allowing for compliance with social distancing of 2m, or 1m with mitigation (approximately equivalent to a density of 10㎡ per person)
Controlled entry: staggering admission to ensure socially distanced arrival
Managing queues outside the venue to ensure they do not cause a risk to individuals or other businesses, for example by introducing queuing systems, using barriers and having staff direct customers
Controlled flow during an event: introducing one-way systems and timed tickets to control flow and alleviate congestion
Providing floor markings, where appropriate, and signage to remind both workers and customers to follow to social distancing wherever possible
Assigning appropriately distanced seating where events have a seated element and encourage seated events
Ensuring that on site speakers are subject to restrictions on live performances - see performing arts guidance for more information
The opening up of the economy following the Covid-19 outbreak is being supported by NHS Test and Trace. You should assist this service by keeping a temporary record of your customers and visitors for 21 days, in a way that is manageable for your business but effective for managing disease transmission risks, and assist NHS Test and Trace with requests for that data if needed.
View the guidance in full here.
Notes for editors
Imago Venues are Leicestershire's premier venue brand, combining year-round conference venues and hotels with Loughborough University's campus facilities.

They provide high-quality meeting spaces, venues and accommodation, along with world-leading sports and leisure facilities.
Its portfolio includes Burleigh Court Conference Centre and Hotel, Holywell Park Conference Centre, The Link Hotel, the Elite Athlete Centre and Hotel, and Loughborough University campus.
Multi-award winning venues including M&IT Gold for Best Academic Venue, Best UK Conference Centre, Best F&B Supplier, and Best Training Venue at the Academic Venue Awards.
Imago Venues are a wholly owned subsidiary of Loughborough University and Gift Aid their profits back to the University, contributing over £1m per year towards research and academic excellence on campus.
Imago Venues is part of The 5% Club which is a movement of more than 800 employers providing 'earn and learn' opportunities to develop the skills and talents people need to become more employable and create meaningful careers.
Subscribe to our newsletter