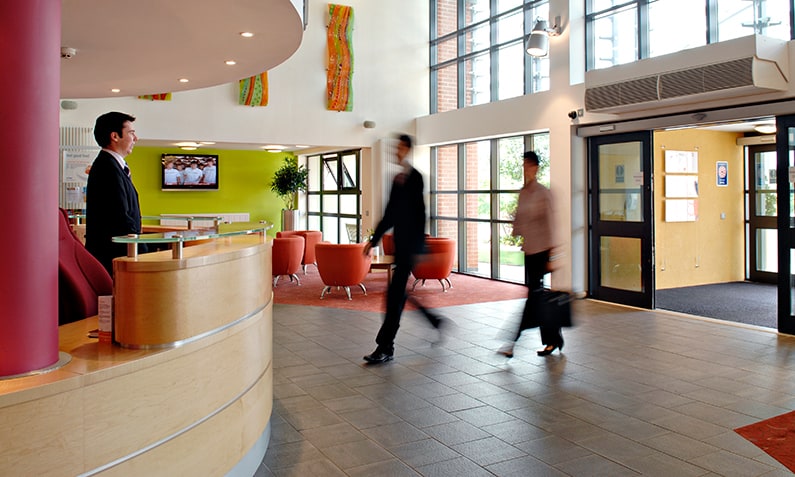 Imago Venues' Burleigh Court and Holywell Park retain mia's AIM Gold accreditation
6 Mar 2018
​Loughborough based Imago Venues has achieved the Meetings Industry Association's (mia) AIM Gold accreditation for the second time for its core conference facilities Holywell Park and Burleigh Court.
Emma Boynton, Head of Sales and Marketing at Imago Venues comments:

Maintaining AIM Gold is a real coup for Imago Venues, it ensures we remain a part of the UK's most exclusive group of leading meetings and event venues. It is a real point of differentiation as it recognises quality across the whole of our offering. In particular, I am grateful to all the staff who have worked so hard to maintain industry leading standards across our portfolio.

Both venues are part of the Imago Venues portfolio, which brings together Loughborough University's conference and events venues under one brand. As with all AIM-accredited venues, they were vigorously assessed by the mia.
The assessment ensures venues are fit for purpose and implement decent and ethical operations covering everything from facilities and legal compliances to performance against a strict code of conduct. To achieve the Gold level accreditation, venues must display superior service throughout the entire customer journey.
Holywell Park was praised for its focus on staff training. Employees are given annual appraisals and quarterly reviews where training needs can be identified. The venue, provided 'clear evidence' of a 'continuous program of improvements to the facilities, products being offered, and training', the assessor said.
Burleigh Court was noted for its strong average occupancy of 72% and the fact it is already 5% up on budget this year as well as significant forthcoming refurbishment activity.
Of both venues the mia's assessor said: "Staff were enthusiastic and knowledgeable about the venue. Departmental managers showed a real sense of pride in their roles to make the venue the success it is already, as well as what it promises to be once the extensive refurbishment has taken place".
Chief executive of the mia Jane Longhurst said:

AIM Gold provides event buyers with the assurance of the highest quality and this latest assessment of Imago Venues' Holywell Park and Burleigh Court shows that these venues are clearly exceeding the criteria set. We congratulate Imago Venues on maintaining their Gold status and wish them well for their planned refurbishment work in the year ahead.
Notes for editors
Imago Venues are Leicestershire's premier venue brand, combining year-round conference venues and hotels with Loughborough University's campus facilities.

They provide high-quality meeting spaces, venues and accommodation, along with world-leading sports and leisure facilities.
Its portfolio includes Burleigh Court Conference Centre and Hotel, Holywell Park Conference Centre, The Link Hotel, the Elite Athlete Centre and Hotel, and Loughborough University campus.
Multi-award winning venues including M&IT Gold for Best Academic Venue, Best UK Conference Centre, Best F&B Supplier, and Best Training Venue at the Academic Venue Awards.
Imago Venues are a wholly owned subsidiary of Loughborough University and Gift Aid their profits back to the University, contributing over £1m per year towards research and academic excellence on campus.
Imago Venues is part of The 5% Club which is a movement of more than 800 employers providing 'earn and learn' opportunities to develop the skills and talents people need to become more employable and create meaningful careers.
Subscribe to our newsletter