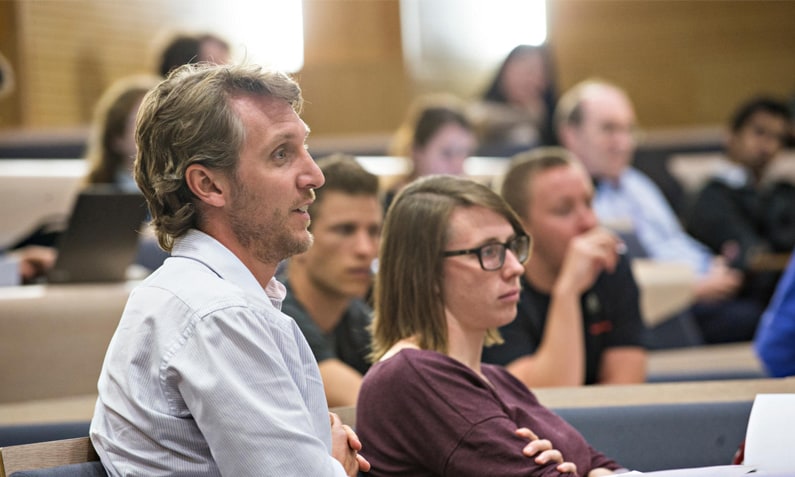 Top tips for organising an international academic conference
14 May 2019
Organising conferences can be daunting, but imagine being tasked with planning a six day international conference, for 550 delegates from 32 different countries?
This was the challenge faced by Conversation Analysis expert Professor Paul Drew, who was responsible for organising the International Conference of Conversations Analysis (ICCA).
He enlisted the help of Imago Venues, Loughborough University's conference and events arm.
Together they have shared their top tips for organising a successful international academic conference.
Get professional help and utilise the experts around you
If you're working at a university or have academic contacts, explore what existing event services they have.
Or find help from a professional who has experience in organising events.
Paul asked Imago Venues for help because he knew they were experienced in working with academics.
He said: "They had the advantage of understanding and accommodating the requirements of academic meetings."
Location is key
If you are hosting an international audience, it is important to be accessible. Pick somewhere central that's close to an airport, close to public transport and not far away from the motorway.
Ensure there is a smooth transition to the venue and make sure there is enough parking on site.
Budgets
Ask someone to help with budgeting for your event. Make sure it is clear how much budget you have, what your needs are and ask the events company for a clear breakdown of where they are planning to spend the money.
Venue
Academic conferences are best held in an academic environment. Off-campus conference venues tend to cater for the needs of commercial clients and the requirements of scholarly conferences can be very different.
Research where similar conferences have been held previously.
Paul said: "Each of the previous conferences have been held in universities, such as the University of Copenhagen, University of Helsinki and UCLA. It was natural that we wanted ours at Loughborough University.
Be flexible
Each conference is different, therefore be prepared for specific requests.
For his event, Paul wanted to incorporate pre-conference workshops, as it provided an opportunity for delegates to train in key areas ahead of the main event.
This extended the event by another two and a half days, while adding extra pressure in terms of accommodation and the need for sessions to run concurrently.
Accommodation
Think about who your guests are and what their requirements are.
With academic conferences, delegates can range from high level academics to students and each person has a different budget.
Explore if there is accommodation available on campus that can be used.
Paul said: "There was a wider variety of expectations when it came to both price and quality of the accommodation. Imago Venues were able to meet everyone's needs, with the highest paying delegates making use of its 4-star Burleigh Court Hotel and Conference Centre on campus."
Dare to be different
Each delegate who attends a conference has to travel, regardless of whether that's five or 5,000 miles. At Paul's event only 17% of delegates were from the UK, so he knew that he wanted to do something different to make their stay memorable.
Imago Venues helped to do this by turning previously formal dinners into networking BBQs.
Paul said: "Even something as simple as serving fish and chips outside was a masterstroke, it was really British and made the event a party rather than a dinner."
Check the tech
Check that technical help is included in your package, in case of any glitches and make sure you have support on the day.
Ensure the venue's technology and WI-FI is up to scratch. The ICCA conference had an event app which was accessed 20,000 times and it included the conference programme.
Ask the hosts at the venue if rooms are fitted with equipment to display PowerPoint presentations. Remember to ask basic questions such as: "Do the meeting rooms have microphones and speakers?"
Event management is vital
Don't underestimate the value of a full event management service. While it might seem like a luxury to have, the value will pay back its cost 10-fold. Imago Venues provided a fully comprehensive service from delegate registration, administering payments, through to signage and on-site delivery.
Notes for editors
Imago Venues are Leicestershire's premier venue brand, combining year-round conference venues and hotels with Loughborough University's campus facilities.

They provide high-quality meeting spaces, venues and accommodation, along with world-leading sports and leisure facilities.
Its portfolio includes Burleigh Court Conference Centre and Hotel, Holywell Park Conference Centre, The Link Hotel, the Elite Athlete Centre and Hotel, and Loughborough University campus.
Multi-award winning venues including M&IT Gold for Best Academic Venue, Best UK Conference Centre, Best F&B Supplier, and Best Training Venue at the Academic Venue Awards.
Imago Venues are a wholly owned subsidiary of Loughborough University and Gift Aid their profits back to the University, contributing over £1m per year towards research and academic excellence on campus.
Imago Venues is part of The 5% Club which is a movement of more than 800 employers providing 'earn and learn' opportunities to develop the skills and talents people need to become more employable and create meaningful careers.
Subscribe to our newsletter