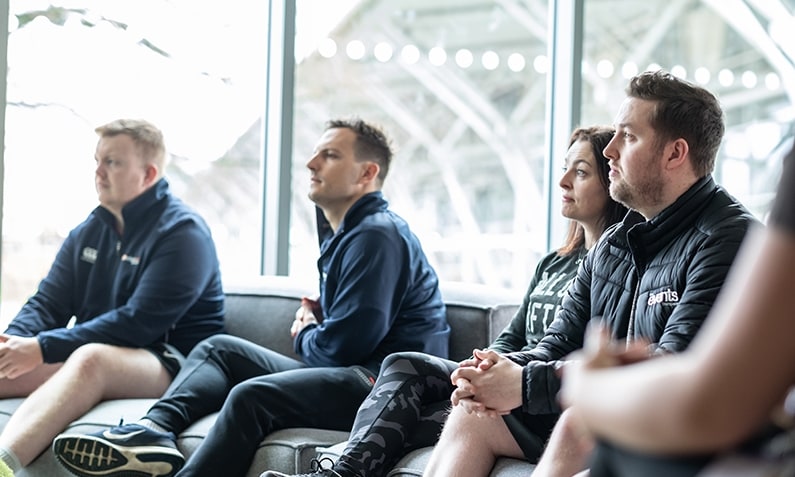 On Your Marks... we partner with Grey Dawes to deliver a series of wellness products to support business travellers
26 Apr 2021
Grey Dawes have teamed up with Loughborough University to provide a series of wellness products and insights into how business travellers can learn from elite sport to always perform at their best.
Grey Dawes' have launched their "Podium" wellness programme which partners with world-renowned experts at Loughborough University and Elite Athlete Centre and Hotel to deliver a winning solution for modern corporate duty of care. Podium contextualises the learnings from elite sports management and applies them to the world of business travel. Designed to optimise human performance before, during and after every trip, travellers' physical and mental well-being will never be healthier and takes your business corporate travel policy to the top of your game.
This new programme is being launched with a virtual seminar broadcast live from the Elite Athlete Centre and Hotel, and involves interactive sessions and panel Q&A featuring Andrew Shepherd, Performance Lead for Loughborough Sport. The seminar takes place on 27th April.
Corporate Experience Days
The Elite Athlete Centre and Hotel (EAC) can also offer corporate experience packages. As part of Loughborough University's world-leading sports facilities, the EAC can provide inspiring high-performance packages for a range of purpose.
Whether you're a corporate business looking for performance-based leadership training; amateur sports groups looking for aspirational space to develop your training goals; or a team looking for the right place to host preparation camps, there is a package to suit.

The nutrition packages introduce delegates to Loughborough Sports' nutrition philosophy, understanding key food groups and how to use food to achieve performance goals.
The corporate Experience packages are perfect for leadership training events and strengthening your team culture, including Inspirational keynote speaker, understanding nutrition seminar, meeting space for team strategy and interactive sports team-builds.
For more information on these corporate packages, contact the Elite Athlete Centre and Hotel:
Contact the Elite Athlete Centre
Notes for editors
Imago Venues are Leicestershire's premier venue brand, combining year-round conference venues and hotels with Loughborough University's campus facilities.

They provide high-quality meeting spaces, venues and accommodation, along with world-leading sports and leisure facilities.
Its portfolio includes Burleigh Court Conference Centre and Hotel, Holywell Park Conference Centre, The Link Hotel, the Elite Athlete Centre and Hotel, and Loughborough University campus.
Multi-award winning venues including M&IT Gold for Best Academic Venue, Best UK Conference Centre, Best F&B Supplier, and Best Training Venue at the Academic Venue Awards.
Imago Venues are a wholly owned subsidiary of Loughborough University and Gift Aid their profits back to the University, contributing over £1m per year towards research and academic excellence on campus.
Imago Venues is part of The 5% Club which is a movement of more than 800 employers providing 'earn and learn' opportunities to develop the skills and talents people need to become more employable and create meaningful careers.
Subscribe to our newsletter