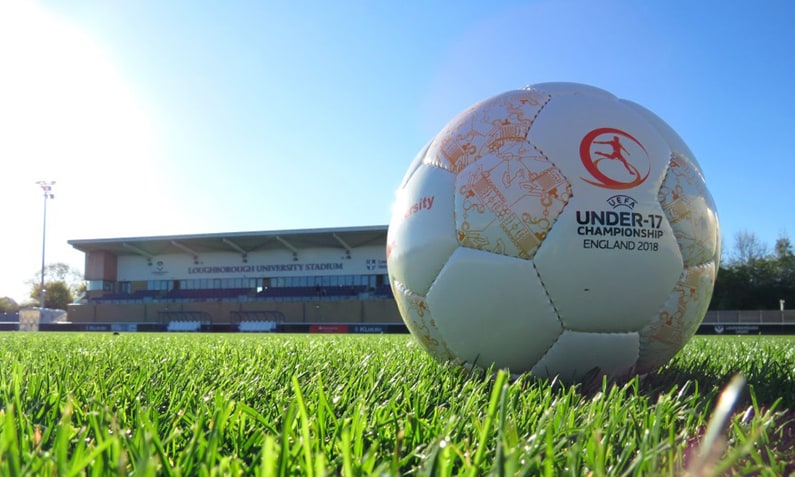 Imago Venues to support Loughborough University in hosting the UEFA European Under-17 finals
24 Nov 2017
UEFA and The Football Association have named the venues which will host the UEFA European Under-17 Championship final tournament in May next year, with Loughborough University one of six venues chosen.
Imago Venues, Loughborough University's commercial venue provider, will facilitate and provide event management support throughout.

Alongside Burton Albion, Chesterfield, Rotherham United, St. George's Park and Walsall, Loughborough University has been selected to host the annual UEFA tournament, which sees Europe's 16 elite nations go head to head.
Chesterfield will host the opening game and Rotherham United will stage the final, with fixtures taking place between 4-20 May. Tickets will go on sale in January with the final draw taking place at St. George's Park in April.
Wayne Rooney, Eden Hazard, Paul Pogba and Mario Götze are some of the famous names to have appeared at this level in the past with the competition acting as the perfect platform for young players to showcase their talents. England who won the European Under-17 title in 2010 and 2014, and also finished runners- up to Spain in 2017, qualified automatically for the tournament as hosts.
Loughborough University Executive Director of Sport John Steele commented: "My colleagues and I are delighted that the 2018 UEFA European Under-17 Championships are coming to Loughborough University. Our purpose built football stadium will make a fantastic host venue alongside some of the larger football league grounds, and this event will add to the growing portfolio of national and international sporting events we are able to host on campus. A major developmental football tournament of this nature fits with our ethos here at Loughborough, and who knows how many stars of the future will be unearthed."
Imago Venues are renowned for our links to major sporting events due to the professional facilities available across our portfolio. As an award winning venue we have time and again delivered exceptional events to host of clients from all sectors. The UEFA European Under-17 Championships will once again provide an opportunity for our customer service skills to shine and we look forward to welcoming players and supporters from around the world to what will be an exciting tournament.

Emma Boynton, Head of Sales and Marketing at Imago Venues
England U17s head coach Steve Cooper said: "We are very proud to be hosting the men's European Under-17 finals next summer. St. George's Park will be at the heart of training and matches and all six venues will give the players an opportunity to perform at different stadiums.
"Rotherham and Walsall have hosted a number of England development and women's team fixtures in the past while Burton Albion and Chesterfield are fantastic venues. Loughborough University is a world-renowned sports and educational establishment.
"The tournament gives the towns and regions an opportunity to see the best young talent from across the continent and we are very much looking forward to the challenge."
UEFA President Aleksander Čeferin added: "The European Under-17 Championship gives football fans an early opportunity to watch talented young footballers as they start out on what they hope will be successful careers in the game. The competition also provides the youngsters with an ideal chance to perform on an international football stage.
"I am very happy that the finals are being staged in England. The Football Association are experienced hosts of major football events, and we are all looking forward to an exciting and entertaining tournament."
Notes for editors
Imago Venues are Leicestershire's premier venue brand, combining year-round conference venues and hotels with Loughborough University's campus facilities.

They provide high-quality meeting spaces, venues and accommodation, along with world-leading sports and leisure facilities.
Its portfolio includes Burleigh Court Conference Centre and Hotel, Holywell Park Conference Centre, The Link Hotel, the Elite Athlete Centre and Hotel, and Loughborough University campus.
Multi-award winning venues including M&IT Gold for Best Academic Venue, Best UK Conference Centre, Best F&B Supplier, and Best Training Venue at the Academic Venue Awards.
Imago Venues are a wholly owned subsidiary of Loughborough University and Gift Aid their profits back to the University, contributing over £1m per year towards research and academic excellence on campus.
Imago Venues is part of The 5% Club which is a movement of more than 800 employers providing 'earn and learn' opportunities to develop the skills and talents people need to become more employable and create meaningful careers.
Subscribe to our newsletter