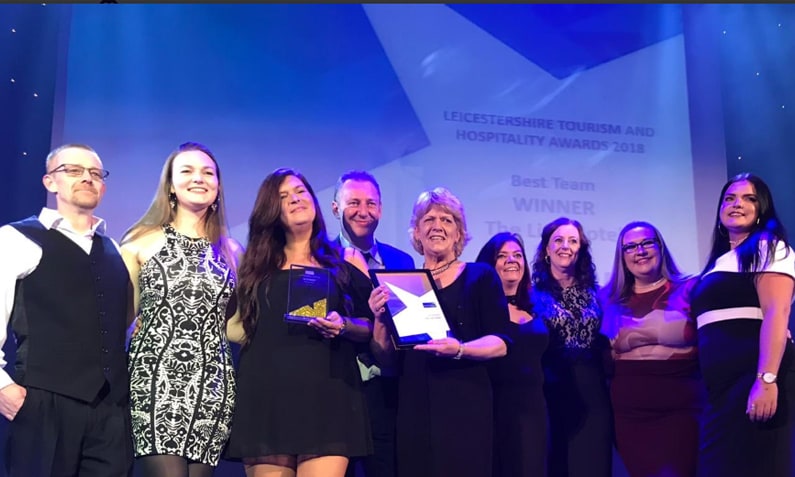 The Link Hotel wins Best Team at Leicestershire Tourism and Hospitality Awards
29 Nov 2018
Imago Venues are celebrating after The Link Hotel won Best Team at the prestigious Leicestershire Tourism and Hospitality Awards.
The awards celebrate the very best of the tourism industry in Leicestershire. 108 businesses from across Leicester and Leicestershire reached the finals and the winners were announced at a prestigious ceremony at the Athena in Leicester on 29 November 2018.
Now in its 8th year, the awards are organised by Leicestershire Promotions and are aimed at finding the best tourism businesses in the county. Amongst 153 finalists across 22 categories, we were very proud to be shortlisted for Best Team for The Link Hotel and Most Innovative Business Tourism Partner for Imago Venues.

We were absolutely thrilled to win the Best Team category for The Link Hotel against some excellent competition, and took 2nd place (Highly Commended) for Innovative Business Tourism Partner.
Martin Peters, Chief Executive of Leicestershire Promotions said:
This year's awards have been an amazing success with more applicants than ever from a broad cross-section of the Leicestershire tourism industry. The judges really had their work cut out in the face of intense competition from such an amazing list of finalists. We offer our hearty congratulations to all of the deserved winners who represent Leicestershire so magnificently to all visitors to the city and county.
This recognition amongst the very best in tourism is testament to the amazing staff we have at The Link Hotel. We think of ourselves as a family unit and our small team of 8-core staff achieve some incredible things. We welcome over 25,000 guests each year and, time and time again, it's our friendly service that keeps them coming back. It's all about customer service to us, which is why we're extremely proud to be ranked number 1 in Loughborough and to have won TripAdvisor's Hall of Fame Award. This award is only given to hotels that have achieved a Certificate of Excellence for 5 years on the trot and demonstrates how well regarded we are by our customers.
Sam Chaplin, Hotel Manager commented:
"Our ethos is to deliver outstanding experiences and empower everyone to make on-the-spot decisions that add value to our guests. We understand that we are part of the bigger Imago story and know how integral our small team is in delivering the overall Imago Venues vision. We love our jobs and embrace the responsibility of being our customers' preferred choice through consistent service excellence. Our guests see how proud we are to work here and the phrase "Our Link Family" is something that you will often hear bandied around the hotel."
Visit The Link Hotel website
Notes for editors
Imago Venues are Leicestershire's premier venue brand, combining year-round conference venues and hotels with Loughborough University's campus facilities.

They provide high-quality meeting spaces, venues and accommodation, along with world-leading sports and leisure facilities.
Its portfolio includes Burleigh Court Conference Centre and Hotel, Holywell Park Conference Centre, The Link Hotel, the Elite Athlete Centre and Hotel, and Loughborough University campus.
Multi-award winning venues including M&IT Gold for Best Academic Venue, Best UK Conference Centre, Best F&B Supplier, and Best Training Venue at the Academic Venue Awards.
Imago Venues are a wholly owned subsidiary of Loughborough University and Gift Aid their profits back to the University, contributing over £1m per year towards research and academic excellence on campus.
Imago Venues is part of The 5% Club which is a movement of more than 800 employers providing 'earn and learn' opportunities to develop the skills and talents people need to become more employable and create meaningful careers.
Subscribe to our newsletter