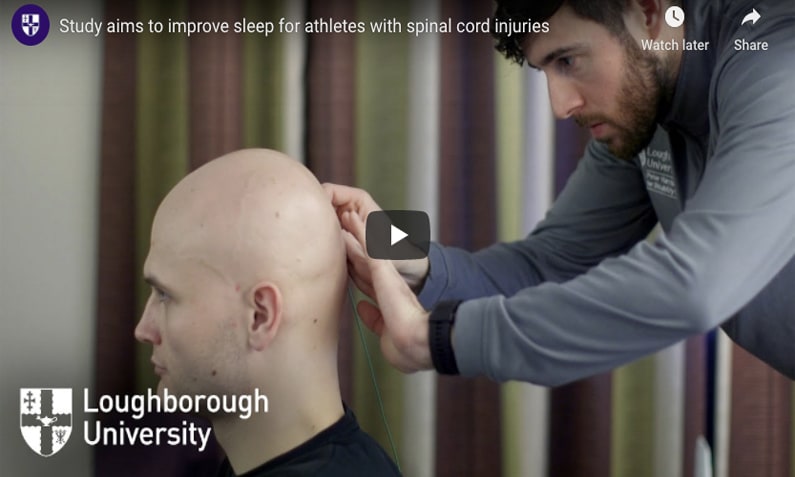 Study aims to improve sleep for athletes with spinal cord injuries
3 Apr 2020
A Loughborough University research project is hoping to improve sleep patterns for athletes with spinal cord injuries.
Check out the video here:
https://www.youtube.com/watch?time_continue=5&v=s9UwCtUWNho&feature=emb_logo
A research project which looks at the relationship between spinal cord injuries and sleep quality has based part of its study at Imago Venues.
Experts from the Peter Harrison Centre for Disability Sport at Loughborough University have studied the sleep patterns of eight athletes with spinal cord injuries to help them create sleep management techniques which improve performance and general wellbeing.
The participants were all monitored at home between November 2019 and March 2020, where their skin temperature and sleep patterns were measured.
They also spent 24 hours at the Link Hotel, in Ashby Road, Loughborough, where researchers continuously measured core temperature, melatonin and brainwaves.
PhD student Conor Murphy, who is carrying out the study, said: "Spinal injuries decrease the body's ability to regulate its own temperature.
"As a result, overheating during exercise is a big worry.
"But we want to know whether the issue also impacts on sleep.
"It's anecdotally known that people with spinal cord injuries struggle to maintain their sleep or fall asleep, so we are hypothesising this could be one of the reasons why."
During a 24-hour period at the Link Hotel, an Imago Venues hotel close to the University, researchers continuously measured the participants' core body temperature using a 'thermometer' pill.
Saliva samples were also taken to measure the sleep hormone, melatonin.
And whilst the athletes were asleep, Conor used a technique known as polysomnography to record brainwaves, oxygen level in the blood, heart rate and breathing.
It is hoped that the data collected will explain more about the circadian patterns – the body's natural rhythms that dictate when to sleep and wake – of athletes with spinal cord injuries.
Once the data has been analysed, the athletes will be offered advice about best practice for quality sleep.
The guidance will likely include information about limiting caffeine, ensuring optimal sleep conditions and surroundings and developing consistency around bed times.
Jack Smith, a wheelchair rugby player for Team GB, who took part in the study, said: "Finding a solution to poor sleep would be great.
"If you know you're doing everything you can, physically, to be the best you can be, even if it's just those tiny little margins, you're going to feel better.
"You're going to feel you've done everything."
The National Sleep Foundation recommends adult get between seven and nine hours of sleep a night.
During sleep the body repairs itself and plays a major role in athletic recovery.
As well as physical benefits, sleep also helps with memory, concentration and focus.
Conor added: "Sleep is an essential component of life.
"It's a restorative process that includes increased levels of anabolic hormones such as growth hormone and testosterone.
"Many sportsmen and women already have reduced hours of sleep due to early morning training and close to competition time.
"So, if a para-athlete has additional physiological reasons preventing them from getting a good night's sleep, their recovery and long-term performance could potentially be hindered."
The results of the study will also go towards improving the lives of non-athletes.
Project supervisor, Professor Vicky Tolfrey said: "All of our research here at Loughborough is underpinned by athletic performance, but it has a wider impact for the everyday health or wellbeing of people with spinal cord injuries
"So, it's very important to use that model to understand the differences to try and look at some interventions that ultimately might improve the quality of life."
Watch this space for more information about this valuable study when we publish the research findings.
Notes for editors
Imago Venues are Leicestershire's premier venue brand, combining year-round conference venues and hotels with Loughborough University's campus facilities.

They provide high-quality meeting spaces, venues and accommodation, along with world-leading sports and leisure facilities.
Its portfolio includes Burleigh Court Conference Centre and Hotel, Holywell Park Conference Centre, The Link Hotel, the Elite Athlete Centre and Hotel, and Loughborough University campus.
Multi-award winning venues including M&IT Gold for Best Academic Venue, Best UK Conference Centre, Best F&B Supplier, and Best Training Venue at the Academic Venue Awards.
Imago Venues are a wholly owned subsidiary of Loughborough University and Gift Aid their profits back to the University, contributing over £1m per year towards research and academic excellence on campus.
Imago Venues is part of The 5% Club which is a movement of more than 800 employers providing 'earn and learn' opportunities to develop the skills and talents people need to become more employable and create meaningful careers.
Subscribe to our newsletter