Our award-winning conference venues provide the perfect space for your day conference, whether that's a team away day, training workshop, leadership forum or management strategy day. Meeting face-to-face is vital in building relationships with team members and making your session more focussed, proactive, and interactive. We offer exceptional 8-hour day conference packages in a dedicated environment that engages your team and achieves your objectives.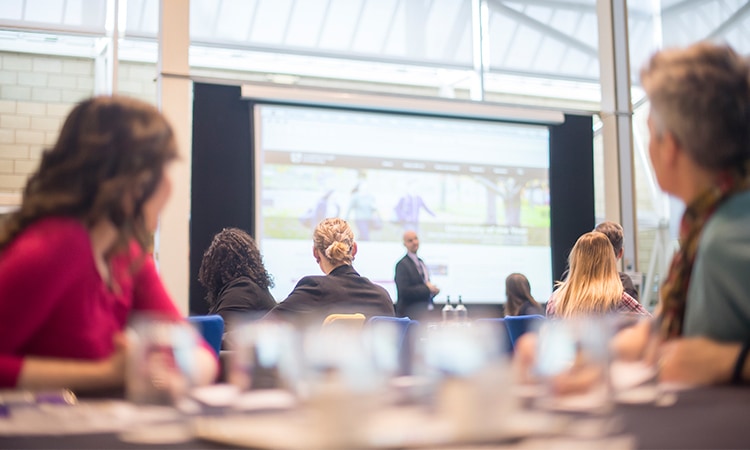 Fully integrated audio-visual equipment
All our meeting rooms and conference spaces have fully integrated AV including high quality sound systems, flat screens and multiple connectivity. We also have 4 rooms with video conferencing facilities for hybrid meetings. We provide a free, superfast 1Gbps Wi-Fi network for when you want to dial-in colleagues on Zoom or utilise interactive apps or Q&A software to engage your delegates. This is one of the fastest Wi-Fi networks of any conference venue in the UK and is tested up to 1500 simultaneous users.
Rooted In Food
Our team of in-house chefs provide delicious and nutritional menus that fuel your performance and boost concentration levels. Our 8-hour day conference package includes hot and cold lunch or working lunch boards that can be delivered to your room. Our chefs are trusted by the world's best athletes to provide nutritionally balanced meals in preparation for competition, so you can rest assured your delegates will be well fed!
Our 8-hour Day Conference package includes:
Choice of purpose-built training/meeting rooms
Integrated AV equipment
Free 1Gbps Wi-Fi network
Complimentary syndicate room
Flipchart, whiteboard, stationery
Ergonomic seating designed for extended use
Air conditioning and natural daylight
Dedicated on-site support
Tea, coffee, and refreshments
Hot and cold lunch or working lunch boards
Constant supply of chilled water
Conference venue features
Flexible Meeting Spaces
Flexible Meeting Spaces From small syndicate rooms for 10 people boardroom style, to large conference rooms for 280 delegates
Ample free parking
All our venues have free secure parking spaces to accommodate all your conference delegates
Free reliable Wi-Fi
Our super-fast 1Gbps Wi-Fi network has been tested up to 1500 simultaneous users
Breakout spaces
All our conference venues have breakout spaces that maximise networking opportunities between sessions
Bedrooms
A choice of 323 en-suite bedrooms for sole or twin occupancy across our venue portfolio
Quality catering
Our in-house team of chefs provide excellent nutritional dishes and can create bespoke menus that fuel your performance
Location
Easily accessible central location just 1m from Jn23 M1, 8m from East Midlands Airport, 75mins from London St.Pancras
World class sports facilities
As part of Loughborough University, we have access to the world's best sporting facilities, performance training and nutrition.
Choose your perfect conference venue
Use our handy Event Calculator to find the perfect space for your event. Select your package and dates > Configure your space and desired layout > Explore the matched spaces in our 360 virtual tours
Can we help with your next day conference?