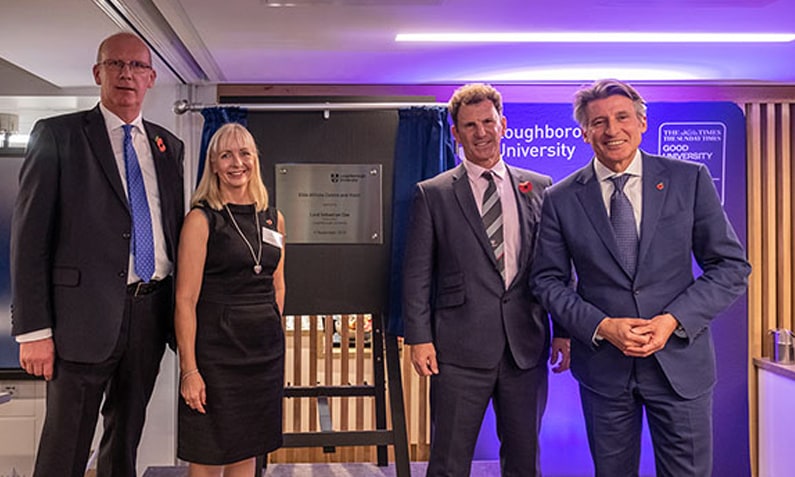 Olympic legend Lord Sebastian Coe opens Loughborough's pioneering Elite Athlete Centre and Hotel
12 Nov 2018
Double Olympic champion Lord Sebastian Coe officially opened the new Elite Athlete Centre and Hotel at Loughborough University on Friday 9th November.
The development – which is managed by Imago Venues, the University's award-winning conference, hotel and events brand – is the first of its kind in the UK, offering an holistic support environment for individuals and teams at both elite professional and dedicated amateur levels. It has been developed in partnership with UK Sport, Sport England and theEnglish Institute of Sport.
Kay England, Chief Executive of Imago Venues, said of the new facility: "The Elite Athlete Centre and Hotel is a fantastic addition to the portfolio of Loughborough University venues that Imago manages. We are very proud to have worked in partnership with Sport England, UK Sport and the English Institute of Sport to create this unique centre of sporting excellence here on our campus."
The Elite Athlete Centre and Hotel has 44 twin ensuite bedrooms, including 20 cutting-edge altitude rooms. These rooms allow athletes to adjust the climatic conditions, enabling them to sleep in environments that simulate altitudes of up to 5,000m (the equivalent of Everest base camp) while being able to maintain their regular low-altitude training programmes.
The 'sleep high, train low' method is believed to have a positive impact on athletes' performance capability. Sleeping at high altitude can stimulate the production of red blood cells and haemoglobin (the protein inside red blood cells that carries oxygen around the body). When athletes return to sea level, their bodies have an increased oxygen-carrying capacity which means more oxygen can be delivered to their muscles. This makes exercise more efficient which can have significant performance gains.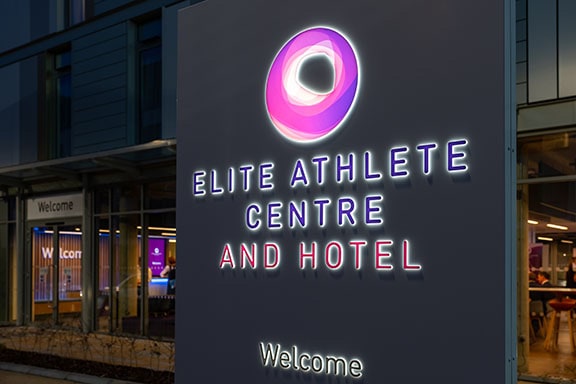 Every bedroom is accessible and eight of the rooms, including four altitude rooms, are fully DDA (Disability Discrimination Act) compliant.
The Elite Athlete Centre and Hotel also has a specialist nutrition room to meet athletes' complex dietary requirements. The menus, which have been developed in conjunction with James Moran, Performance Nutritionist at the English Institute of Sport, include diets with a high iron content to compliment the 'sleep high, train low' training approach. The menu options are also scalable, meaning that athletes, their coaches and nutritionists can choose to have more or less of each individual element to suit their requirements and training needs.
James Moran said: "The advantage of the Elite Athlete Centre and Hotel means that as well as having outstanding facilities, we're able to collaborate with partners to offer world class nutritional support and positively influence athletes' diet.
"The menu and nutritional philosophy we've designed specifically meets the bespoke needs of the elite athletes the EIS works with. This ensures the right combination of taste, presentation and nutritional value."
Food stations in the restaurant encourage athletes to move around during dining and discourage 'plate loading' that often occurs in a traditional hotel buffet. The hotel chefs are also on hand to discuss the available food options and make recommendations to maximise the nutritional value of each plate.
Bespoke packages are available to provide guests with access to the University's world-class on-campus sports facilities, including the indoor athletics centre and outdoor stadium, sports halls and all-weather pitches, a 50-metre swimming pool, squash, badminton and netball courts, an indoor tennis centre and outdoor courts, and state of the art fitness centres.
Athletes are also able to benefit from the world-renowned performance support services at Loughborough University, including a performance laboratory, a sports medicine and physiotherapy clinic, and expertise in strength and conditioning, performance analysis, physiology, and sport, exercise and health sciences.
Loughborough University's Vice-Chancellor, Professor Robert Allison, said: "I am delighted that our Chancellor, Lord Sebastian Coe, one of Great Britain's true sporting legends, has officially opened the Elite Athlete Centre and Hotel at Loughborough. The new facility offers something unique within the UK and will undoubtedly help us to reinforce our position as the country's leading university for sport."
Bookings for the Elite Athlete Centre and Hotel can be made online at www.eliteathletecentre.co.uk
Notes for editors
Imago Venues are Leicestershire's premier venue brand, combining year-round conference venues and hotels with Loughborough University's campus facilities.

They provide high-quality meeting spaces, venues and accommodation, along with world-leading sports and leisure facilities.
Its portfolio includes Burleigh Court Conference Centre and Hotel, Holywell Park Conference Centre, The Link Hotel, the Elite Athlete Centre and Hotel, and Loughborough University campus.
Multi-award winning venues including M&IT Gold for Best Academic Venue, Best UK Conference Centre, Best F&B Supplier, and Best Training Venue at the Academic Venue Awards.
Imago Venues are a wholly owned subsidiary of Loughborough University and Gift Aid their profits back to the University, contributing over £1m per year towards research and academic excellence on campus.
Imago Venues is part of The 5% Club which is a movement of more than 800 employers providing 'earn and learn' opportunities to develop the skills and talents people need to become more employable and create meaningful careers.
Subscribe to our newsletter