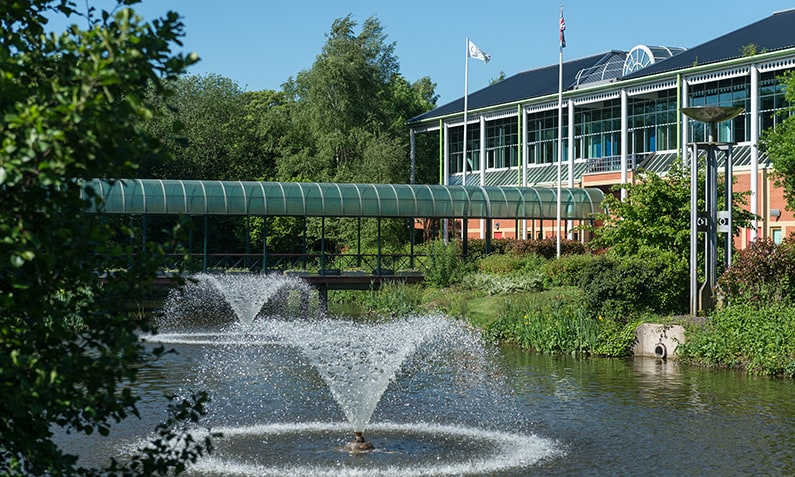 Love Business moves to Holywell Park for 2018
19 Dec 2017
Love Business 2018, the largest free business exhibition in the East Midlands has moved to Holywell Park, Loughborough – part of the Imago Venues portfolio.
"The venue is perfectly designed to accommodate the growing needs of the Love Business Expo's exhibitors and delegates," comments Stephen Megson, director of Love Business East Midlands. "Spread across three halls and the speaker theatre, with more than 100 exhibitors, 3,000 visitors, hospitality, WiFi and free car parking for 2,000 - Love Business 2018 will be our most exciting event to date."

Megson continues: "Following the closure of our previous venue, we were looking for somewhere central to the region that is fresh, exciting and focused on the delivery of great service. Holywell Park is the perfect solution as it combines all those attributes, whilst being the biggest venue in the region with free parking – a major plus point for our attendees."
The event will take place on 22nd February, 2018.
Imago Venue's senior business development manager, Helen Cuddy commented;

We are very proud of the capabilities, facilities and service levels at Holywell Park. As a dedicated venue it offers a focused environment for our clients where they can achieve their goals away from other distractions. Love Business' decision to choose us after the closure of their previous venue, which had been their home for five years, is a testament to the scope and quality of our offering and credibility within the local market. We are truly excited to be welcoming so many businesses to the venue. We are a true part of the local community and this is a fantastic opportunity to get closer to a host of local organisations. We look forward to the success of the event in February.
Holywell Park recently achieved VenueVerdict Gold for the 6th time in recognition of its exemplary service levels. The standard is given to properties recording a twelve-month Net Promoter Score of +70 or higher from Business Event Host responses in the previous twelve-month period.
Imago Venues brings together Loughborough University's conference and events venues under one brand. They provide high quality meeting spaces, venues and accommodation along with world leading sports and leisure facilities.
Notes for editors
Imago Venues are Leicestershire's premier venue brand, combining year-round conference venues and hotels with Loughborough University's campus facilities.

They provide high-quality meeting spaces, venues and accommodation, along with world-leading sports and leisure facilities.
Its portfolio includes Burleigh Court Conference Centre and Hotel, Holywell Park Conference Centre, The Link Hotel, the Elite Athlete Centre and Hotel, and Loughborough University campus.
Multi-award winning venues including M&IT Gold for Best Academic Venue, Best UK Conference Centre, Best F&B Supplier, and Best Training Venue at the Academic Venue Awards.
Imago Venues are a wholly owned subsidiary of Loughborough University and Gift Aid their profits back to the University, contributing over £1m per year towards research and academic excellence on campus.
Imago Venues is part of The 5% Club which is a movement of more than 800 employers providing 'earn and learn' opportunities to develop the skills and talents people need to become more employable and create meaningful careers.
Subscribe to our newsletter