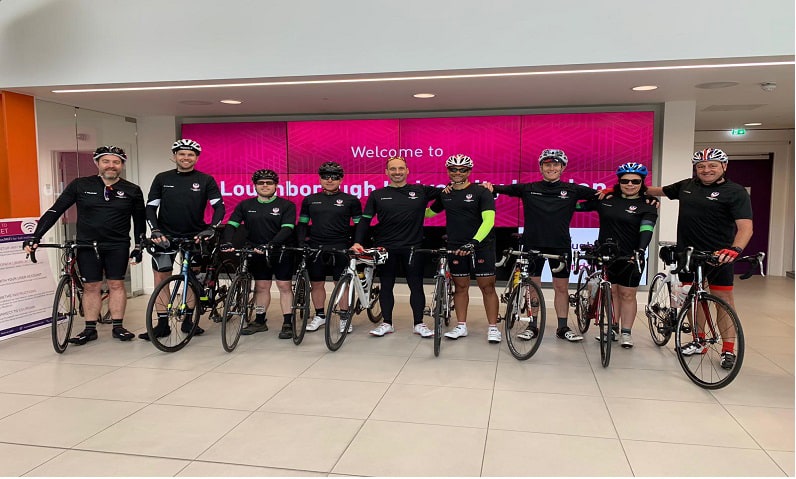 Cyclists to take on 125-mile bike ride to mark opening of new developments on campus
12 Jun 2019
A group of cyclists with strong links to Loughborough University are taking part in a 125-mile bike ride to mark the opening of two new developments on campus.
A total of nine people will be cycling from Loughborough University's London campus - based within the Queen Elizabeth Olympic Park - to the Elite Athlete Centre and Hotel (EAC) at Loughborough University.

The ride will mark the completion of the Claudia Parsons Halls of Residence, which is due to open in June, as well as the completion of the EAC which opened its doors in November.
The group of cyclists is made up of staff from Loughborough University and colleagues from David Morley Architects, London, who have worked together on the EAC and the new halls of residence.
The ride will take place on 14th June with cyclists heading north out of London from the Olympic Park, over the Chilterns, past Milton Keynes and Northampton, through Market Harborough and around the top of Leicester to Loughborough.
To prepare for the challenge, members of the group have been training individually over the past few months and squeezing in miles on the bike whenever possible.
Mark Davies, sports capital strategy and maintenance manager, at Loughborough University, said a key part of both developments was to create an active landscape. Through the bike ride, the team wanted to carry on promoting the messages of active lifestyles and wellbeing.
Mark said: "From the outset, Loughborough University has worked with David Morley Architects to understand and deliver what the students wanted to engage with.
"This has resulted in a unique environment that encourages students and visitors to the area to be active and enjoy the outdoor environment.
"From road running tracks to artificial areas, trampolines to traversing walls, boot camp style areas and grassy knolls for relaxing and yoga, this environment has it all to encourage and engage the individuals."
Alastair Wood, an architect at David Morley Architects, who worked on the EAC, said: "The idea to promote active lifestyles and communities was at the heart of this project from the very inception.
"This applies to the people who now use the buildings as well as the teams of people who have been involved in making it a reality"
"Making a connection from Loughborough in London to the EAC the home of future Olympians, was part of these early discussions.
"We thought a cycle ride would be a great way to highlight and celebrate the project as well as demonstrate actually living the message with the added benefit of spending time with like-minded individuals."
People taking part in the ride are Alastair Wood, Andy Mytom, Gloria Buehler, Greg Watts, Iain Williamson, James Smith, Nik Diaper, Rupert Biggin and Tom Wallbank.
Notes for editors
Imago Venues are Leicestershire's premier venue brand, combining year-round conference venues and hotels with Loughborough University's campus facilities.

They provide high-quality meeting spaces, venues and accommodation, along with world-leading sports and leisure facilities.
Its portfolio includes Burleigh Court Conference Centre and Hotel, Holywell Park Conference Centre, The Link Hotel, the Elite Athlete Centre and Hotel, and Loughborough University campus.
Multi-award winning venues including M&IT Gold for Best Academic Venue, Best UK Conference Centre, Best F&B Supplier, and Best Training Venue at the Academic Venue Awards.
Imago Venues are a wholly owned subsidiary of Loughborough University and Gift Aid their profits back to the University, contributing over £1m per year towards research and academic excellence on campus.
Imago Venues is part of The 5% Club which is a movement of more than 800 employers providing 'earn and learn' opportunities to develop the skills and talents people need to become more employable and create meaningful careers.
Subscribe to our newsletter