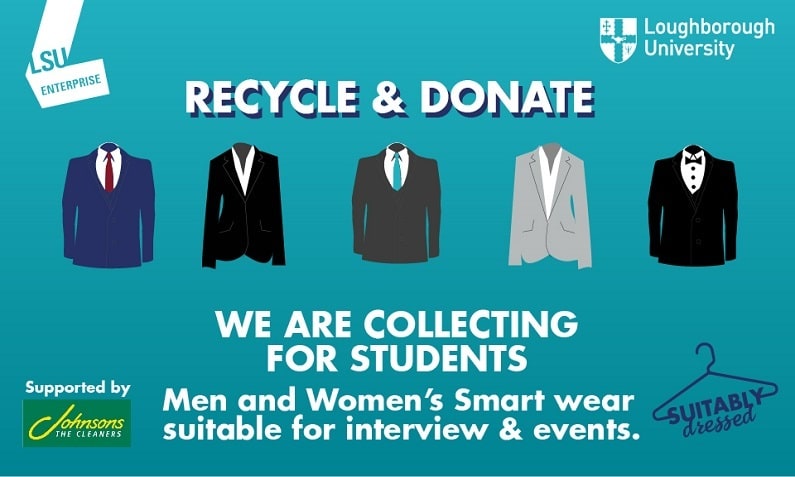 Imago Venues supports sustainable clothing initiative to help students prepare for interviews
12 Aug 2019
​Imago Venues at Loughborough University is supporting a new initiative to help students save money and to enable them to feel their best in upcoming interviews.
Suitably Dressed is a project led by Loughborough Students' Union (LSU) Enterprise Section and aims to support students who may not have the funds to buy a new outfit for a work interview or formal event.

A donation bin will be placed at Imago's flagship venue Burleigh Court Conference Centre and Hotel. Guests, staff and students are being encouraged to drop off unwanted clothes, suitable for professional interviews and other formal events such as awards ceremonies.
This includes items such as blazers, skirts, trousers, dresses, jumpsuits, ties, belts, shoes and shirts in a variety of sizes and styles, aiming to accommodate as many students as possible.
Emma Boynton, Head of Sales and Marketing at Imago Venues, said: "We are proud to be supporting this important initiative to help students be the best that they can be – which is embedded in Imago's ethos.
"We have a strong relationship with our customers, and we are encouraging them to think about what items they could donate to this good cause. Whether you're staying as a guest at the hotel and want to use the donation bin or would like to send an item to us, every contribution will have a positive impact on someone's life.
"We will also be encouraging our own staff to have a think about how they can support the scheme."
Ash Ponder, LSU Enterprise Section Chair, said: "This is a really exciting scheme that will help students from all backgrounds to feel prepared when they are on the hunt for placements and jobs. It also will help people to get involved at other formal events during University, such as award ceremonies."
Not only will the initiative help students save pennies and help them to feel more confident, but it is also a sustainable alternative amidst a time where society is considering the detrimental impacts of fast fashion.
Students will be able to borrow the items of clothing and receive a discount to get it dry cleaned afterwards at the Loughborough branch of Johnsons the Cleaners before returning the items.
A representative from Johnsons the Cleaners said: "We are excited to be working with Loughborough Students' Union and Loughborough University on Suitably Dressed. As a company, we care for the environment as well as our customers' clothes.
"Johnsons co-founded and introduced into the UK market a new non-toxic dry-cleaning solution, Green Earth. Supporting Suitably Dressed gives us the opportunity to further our environmental impact by encouraging clothes to be recycled and help to reduce textile landfill."
For more information, please email Emma Bishop, Student Enterprise Engagement Manager, at emmabishop@lsu.co.uk
Notes for editors
Imago Venues are Leicestershire's premier venue brand, combining year-round conference venues and hotels with Loughborough University's campus facilities.

They provide high-quality meeting spaces, venues and accommodation, along with world-leading sports and leisure facilities.
Its portfolio includes Burleigh Court Conference Centre and Hotel, Holywell Park Conference Centre, The Link Hotel, the Elite Athlete Centre and Hotel, and Loughborough University campus.
Multi-award winning venues including M&IT Gold for Best Academic Venue, Best UK Conference Centre, Best F&B Supplier, and Best Training Venue at the Academic Venue Awards.
Imago Venues are a wholly owned subsidiary of Loughborough University and Gift Aid their profits back to the University, contributing over £1m per year towards research and academic excellence on campus.
Imago Venues is part of The 5% Club which is a movement of more than 800 employers providing 'earn and learn' opportunities to develop the skills and talents people need to become more employable and create meaningful careers.
Subscribe to our newsletter