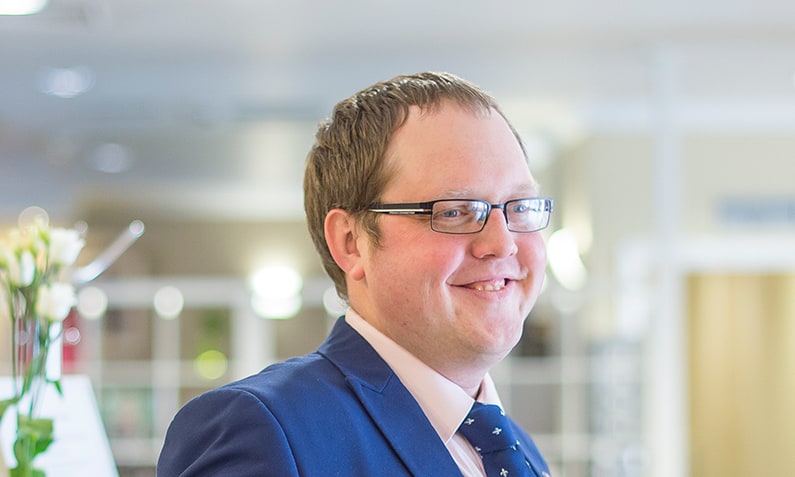 Alun Pomfrett to head up food offering at Burleigh Court and Holywell Park
26 Feb 2018
​Alun Pomfrett, former duty manager at The Link Hotel has been promoted to head of food and beverage at Burleigh Court and Holywell Park. The move will see him playing a key role in the management and client offering at Imago Venues' two flagship properties.
With his focus on creative and inspiring menus based on locally sourced produce Alun is the perfect person to take our food and beverage offering to the next level,

comments Emma Boynton, Head of Sales and Marketing.

Our customer centric offering means it is vital we have the right people in the right roles. Alun isn't just great at his job, diligent and hardworking, he is passionate – and that shines through. Every conversation with him is full of exciting new ideas, potential dishes for our menus or new drinks in the bar.

Alun has recently announced a range of local partnerships that allow the chefs to create better tasting and more inspiring menus.
Alun comments:

I am excited by the opportunities this role will present. With more than 160,000 meals served per year it is a real challenge but one I relish as I look forward to developing a range of dishes and menus that truly excite and interest our delegates and visitors. In particular we will be focusing ever more closely on local producers. I firmly believe that this focus on the local means our chefs can understand the produce they are working with. They can build it into their recipes and deliver great, seasonal dishes for all to enjoy.
These partnerships have included the Leicestershire Handmade Cheese Company, Hambleton Bakery, Rossa Ice Creams, Rothley Vineyard, Charnwood Brewery and Burleighs Gin.
Imago Venues brings together Loughborough University's conference and events venues under one brand. They provide high quality meeting spaces, venues and accommodation along with world leading sports and leisure facilities.
Notes for editors
Imago Venues are Leicestershire's premier venue brand, combining year-round conference venues and hotels with Loughborough University's campus facilities.

They provide high-quality meeting spaces, venues and accommodation, along with world-leading sports and leisure facilities.
Its portfolio includes Burleigh Court Conference Centre and Hotel, Holywell Park Conference Centre, The Link Hotel, the Elite Athlete Centre and Hotel, and Loughborough University campus.
Multi-award winning venues including M&IT Gold for Best Academic Venue, Best UK Conference Centre, Best F&B Supplier, and Best Training Venue at the Academic Venue Awards.
Imago Venues are a wholly owned subsidiary of Loughborough University and Gift Aid their profits back to the University, contributing over £1m per year towards research and academic excellence on campus.
Imago Venues is part of The 5% Club which is a movement of more than 800 employers providing 'earn and learn' opportunities to develop the skills and talents people need to become more employable and create meaningful careers.
Subscribe to our newsletter