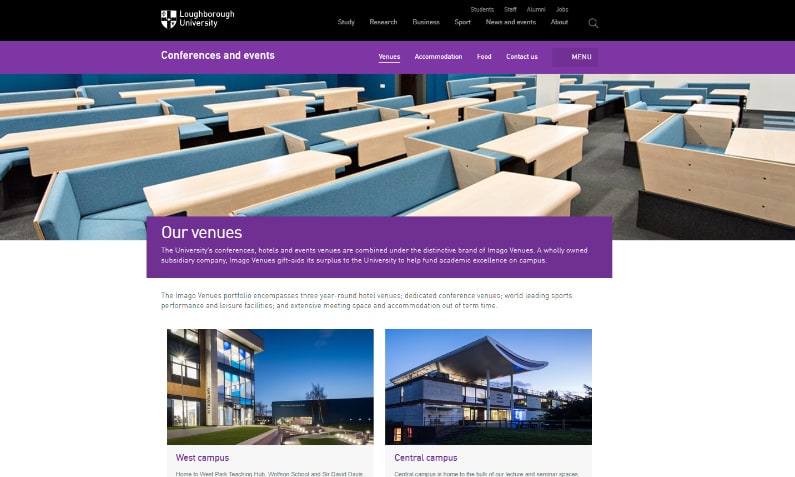 Imago Venues launches new Loughborough Campus website
3 Oct 2019
Loughborough Campus is one of the UK's largest and most extensive single site conference sites.
Imago Venues are a wholly owned subsidiary company of Loughborough University, combining the University's conferences, hotels and events venues under one distinctive brand and offer high quality meeting spaces, accommodation and world leading sports performance and leisure facilities.
The new website follows a re-positioning of the campus offer that makes it easy for organisers to navigate the wealth of facilities that are available to hire for events. Alongside a clearer overview of the world-class facilities is a simplified range of Event Management packages.
"We wanted to re-position our campus offer and make it clear, concise and simple for people researching potential venues for their event. It can be difficult to summarise the wealth of facilities we have and, considering the sort of large-scale events we host are totally individual and unique, it could be quite confusing for organisers to get their head around our facilities and visualise what their event would look like. We think the new website addresses that and, with a refresh of our event management and event support packages, we are making it as easy as possible for organisers to bring their events to Loughborough and providing outstanding experiences."

Rob Chamberlain, Marketing Manager - Imago Venues
Loughborough University campus hosts major international conferences across a wide range of sectors from large academic conferences to national sporting events and preparation camps. With excellent customer service at the core of the offer, they are recognised as a leading academic venue, winning multiple awards and accreditations in customer service, business tourism and people management. They currently boast the title of Best Academic Venue across three awards - The National Venue Awards, M&IT Awards and Mash Media's Academic Venue Awards.
I cannot speak too highly of the service Imago Venues provided. Delegates who had been to all, or some, of the previous conferences agreed that this was outstandingly the best. The credit for this success goes to Loughborough University's facilities and infrastructure and Imago's brilliant management – all world-class.

Paul Drew, Organiser – International Conference of Conversations Analysis (ICCA)
Visit the new website
Notes for editors
Imago Venues are Leicestershire's premier venue brand, combining year-round conference venues and hotels with Loughborough University's campus facilities.

They provide high-quality meeting spaces, venues and accommodation, along with world-leading sports and leisure facilities.
Its portfolio includes Burleigh Court Conference Centre and Hotel, Holywell Park Conference Centre, The Link Hotel, the Elite Athlete Centre and Hotel, and Loughborough University campus.
Multi-award winning venues including M&IT Gold for Best Academic Venue, Best UK Conference Centre, Best F&B Supplier, and Best Training Venue at the Academic Venue Awards.
Imago Venues are a wholly owned subsidiary of Loughborough University and Gift Aid their profits back to the University, contributing over £1m per year towards research and academic excellence on campus.
Imago Venues is part of The 5% Club which is a movement of more than 800 employers providing 'earn and learn' opportunities to develop the skills and talents people need to become more employable and create meaningful careers.
Subscribe to our newsletter