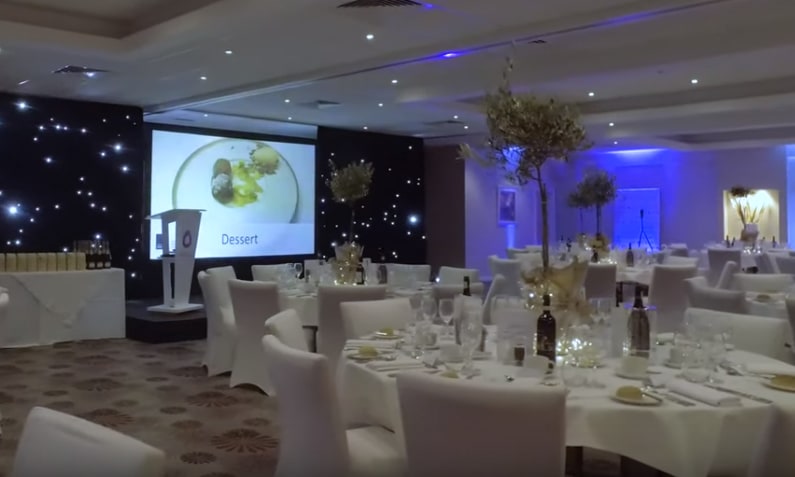 Duo from Burleigh Court win Cook and Serve Challenge
5 Nov 2019
A duo from Burleigh Court Conference Centre and Hotel have been crowned Best Team in the annual Cook and Serve Challenge 2019.
Deon Chikwama and Georgia Wood were presented with the Barry Stonham Best Team Award.
Organised by Venues of Excellence, the competition sees members from across the UK go head-to-head to create culinary masterpieces and provide high quality service to guests. It recognises best individual courses and services in both junior and senior categories, as well as Food Service Champion and Best Team.
The duo served an outlandishly creative and playful menu that created theatre and adventure for the judges. The introduction on the menu read:
"There is nothing wrong with your meal. Do not attempt to adjust the seasoning. We are now in control of service. We control the horizontal and the vertical. We can deluge you with a thousand flavours, or expand one single taste to crystal clarity and beyond. We can shape your vision to anything our imagination can conceive. For the next hour, we will control all that you 'sea' & taste. You are about to participate in a great adventure. You are about to experience the awe and mystery which reaches from the inner mind to... The Outer Limits"

On the menu was a medley of seafood served with La Guita Manzanilla. This was followed by duck, rabbit or pheasant served with celeriac puree, artichoke game chips, creamed spinach, baby heritage carrots and a game jus, served with a Blason d'Issan Margaux. To finish was a mixed berry meringue with textures of citrus and cnady floss, served with a Pococello Limoncello.
The theme of this year's competition was showcasing talent, with venues tasked with preparing and serving a three-course menu that showcases themselves and their venue, using a minimum of five ingredients from a list.
Mandy Jennings, Executive Director at Venues of Excellence, said:
"This year's Cook and Serve Challenge was a great success, with 11 of our member venues putting their culinary and service skills to the test. We were wowed by the talent on show and the skills that exist within these venues up and down the country. It really does show how independent UK venues are raising the bar when it comes to catering and service, providing delegates with high-level menus and culinary creations you'd expect to find in a top-end restaurant."
Along with partners Wilson Vale, the event – held at Leicester College and followed by a dinner and ceremony at Imago Venues Burleigh Court – was sponsored by Tchibo; Aubrey Allen; Matthew Clark; Boe Gin; Unique Venues Birmingham; Golden Jubilee Conference Hotel; College Court; and Whittlebury Park.
Notes for editors
Imago Venues are Leicestershire's premier venue brand, combining year-round conference venues and hotels with Loughborough University's campus facilities.

They provide high-quality meeting spaces, venues and accommodation, along with world-leading sports and leisure facilities.
Its portfolio includes Burleigh Court Conference Centre and Hotel, Holywell Park Conference Centre, The Link Hotel, the Elite Athlete Centre and Hotel, and Loughborough University campus.
Multi-award winning venues including M&IT Gold for Best Academic Venue, Best UK Conference Centre, Best F&B Supplier, and Best Training Venue at the Academic Venue Awards.
Imago Venues are a wholly owned subsidiary of Loughborough University and Gift Aid their profits back to the University, contributing over £1m per year towards research and academic excellence on campus.
Imago Venues is part of The 5% Club which is a movement of more than 800 employers providing 'earn and learn' opportunities to develop the skills and talents people need to become more employable and create meaningful careers.
Subscribe to our newsletter