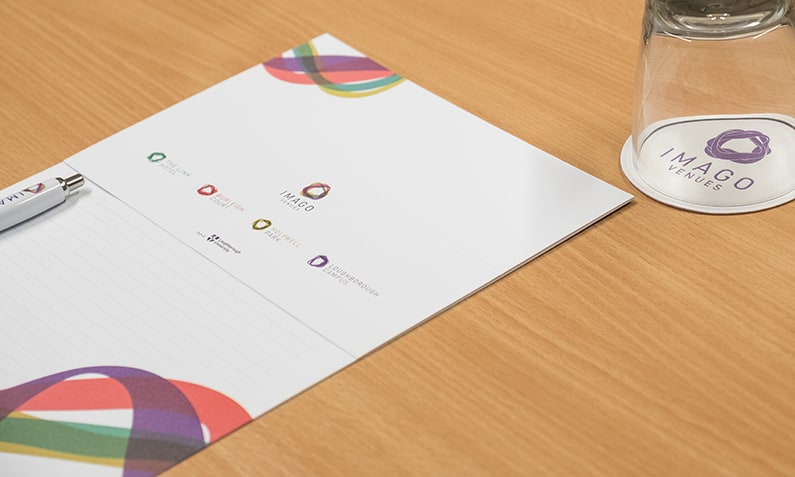 So you think you know Imago... Our brand story
24 Jan 2017
Some 18 months ago, we embarked on a rebrand project. It's been a long but – we think – worthwhile journey, so we thought we'd tell you a tale of how we got here. It's not just about the congratulatory "here's our logo" posts; it's about the keys to our success and having a constant reminder of who we are and what we stand for.
Imago is, and always has been, about our people. There's very much an "Imago way" that our staff truly believe in. Our customers see it too. We get more great feedback about our people than anything else. But that just didn't seem to be reflected in our old brand.

So, we found out what people actually thought about us. The good, the bad and the ugly! We went through lengthy research asking customers, partners and staff what Imago really meant to them. Customers unanimously found the old brand ambiguous and confusing; they understood the venues' identity - and found our service to be great - but didn't really get how that fitted into "Imago", or that we even had a wider portfolio than the venue they'd used.
In other words, our identity just wasn't coming through in how we presented ourselves to customers.
But what did come through was this sense of the "Imago way". The sense that it's our people and our service that make us achieve great things. Recognition that we don't sell products, we sell experiences; that our brand needed to show our customers who we are, our personality, our values and what to expect from us.
We're also proud to be part of Loughborough University. It's one of the things that make us unique as a venue collective… but we weren't shouting about it. The University is going from strength to strength in both sporting and academic terms; an achievement in which we have played a part but wasn't noticeable in our branding.
So, after a lot of hard work, we are thrilled with our new brand! Our new identity shows a much closer alignment of the individual venues with the Imago brand. It's a much clearer statement of what do and who we are. A new logo made of a vibrant motion graphic showing the four venues coming together as one connected entity. The simple addition of the word "Venues" gives customers a much greater clarity to what we provide and the sense of being part of the bigger Imago Venues picture. After all, that holistic service and flexibility in our offering is what makes us unique.
The brand also sits much closer to Loughborough University's own branding and better emphasises the synergy between us by using the same colour and font suite.
We set out to strengthen our brand presence whilst retaining our reputation for service excellence. At the same time, we wanted to develop a new and modern identity to give us a new focus for the next phase of our journey. We think we achieved just that.
We provide great venues for meetings and events. We're proud of our service and our expertise – just ask us how we can deliver for you.
Get to #KnowImago better via social media.
Notes for editors
Imago Venues are Leicestershire's premier venue brand, combining year-round conference venues and hotels with Loughborough University's campus facilities.

They provide high-quality meeting spaces, venues and accommodation, along with world-leading sports and leisure facilities.
Its portfolio includes Burleigh Court Conference Centre and Hotel, Holywell Park Conference Centre, The Link Hotel, the Elite Athlete Centre and Hotel, and Loughborough University campus.
Multi-award winning venues including M&IT Gold for Best Academic Venue, Best UK Conference Centre, Best F&B Supplier, and Best Training Venue at the Academic Venue Awards.
Imago Venues are a wholly owned subsidiary of Loughborough University and Gift Aid their profits back to the University, contributing over £1m per year towards research and academic excellence on campus.
Imago Venues is part of The 5% Club which is a movement of more than 800 employers providing 'earn and learn' opportunities to develop the skills and talents people need to become more employable and create meaningful careers.
Subscribe to our newsletter