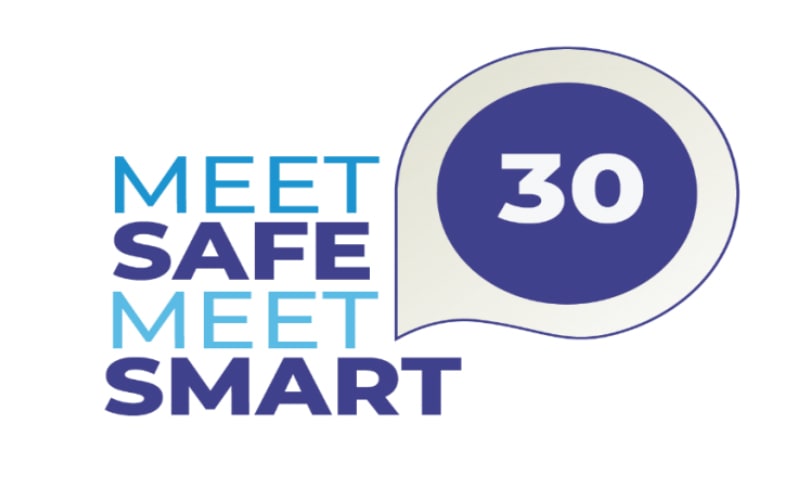 HBAA launches 'Meet Safe, Meet Smart 30' campaign after new survey reveals lack of confidence among planners and confusion over guidelines
21 Oct 2020
HBAA is spearheading a new campaign with a supporting member action group to rectify misperceptions of government rules and build confidence to kick-start the meetings and events sector.
'Meet Safe, Meet Smart 30' (#MSMS30) has been created after new HBAA research revealed there is confusion over the number of delegates allowed to attend meetings in England – currently 30 – which is preventing planners from having the confidence to book and organise permitted meetings.
The survey's respondents, of which 38% were from the corporate sector; 31% from charities and 31% from a mixture of Government, Association and Education organisations, also expressed continued worries over safety. In total, 71% had concerns over employee and delegate safety.
Some 65% stated they will only run online meetings and events in the foreseeable future. Almost all of the other respondents said that they will organise virtual or hybrid and will leave it to the delegates themselves to decide whether to attend in-person or online.
The responses not only showed confusion over government guidance, but also a lack of understanding and confidence in the measures taken at venues.
As well as building confidence, the 'Meet Safe, Meet Smart 30' campaign will concentrate on communicating and supporting government regulations, which currently allow meetings of up to 30 people to take place in England, as well as highlighting the level of safety and flexibility of contractual terms and conditions at all venues involved.
This is a 'free to participate' campaign for both the venues and the agencies that promote them, and it does not suggest reducing meeting or delegate rates as the survey confirmed that price is not a barrier to booking. The campaign aims to provide facts, drive confidence and showcases that booking these permitted venues offers delegates tangible assurances.
Guy Mason, Managing Director of Brief2Event, said: "The ongoing COVID-19 pandemic has decimated the business meetings and events industry in an unimaginable way. The confusion in the marketplace regarding permitted numbers is stopping planners from having the confidence to even contemplate any sort of meeting or event.
"Venues, organisers, delegates and councils all need to know permitted delegate numbers as soon as guidance is announced or changes. Daily we are arguing with venues that are given false information from local councils regarding numbers of delegates. With more than 70% of all meetings being for 30 delegates or less, clarity is essential. This HBAA campaign is leading the way to rectify perceptions and get the industry back up and running."
Michael Begley, managing director of VenueDirectory.com, which operates a Safe Meetings database, said: "Our database showcases over 20,000 venues that have implemented comprehensive Covid-safe policies and procedures so there is a vast choice of Covid-secure venues nationwide."
Adrian Mickleburgh, Regional Service Delivery Manager of Ancala Water Services, commented: ''We are a company that supplies MOD and associated sites with the main utility to allow it to function. Our business function depends on being able to run meetings and training. Covid-safe measures in hotels ensure we are comfortable that these environments are safe and workable.''
James Honeyman, Regional Manager of Lantei Compliance, said: "Running meetings and training is essential to our business. How we can train using Zoom as trainers and trainees need hands-on learning?
Juliet Price, Consultant Executive Director HBAA, said: "It is clear from our survey that there is a long way to go in terms of customers' understanding and appreciating how compliant the vast majority of venues really are when it comes to Covid-19 protocols and also that the current government guidance supports off-site meetings for up to 30 people. 'Meet Safe, Meet Smart' aims to deliver on both fronts and drive confidence while demonstrating why people want to meet – and should meet – shoulder to shoulder – in line with the prescribed measures.
"There are many reasons why meeting in person is absolutely essential, from productivity to creativity, to positive mental health. However, we completely appreciate and acknowledge that that we must follow the government guidelines which are subject to rapid change, aligned to infection rates.
"Our industry must continue to unite to build customer confidence in resuming booking and attending small live business meetings, as these will pave the way for the eventual return of safe and secure larger live events in the future."
#MSMS30 #HBAAfuturefit #wecreateexperiences
Full report is now available to download from HBAA's website: please click here
See what safety measures we have in place
Read our "Safe In Our Hands" document detailing how we are safe, compliant and Covid-secure:

Notes for editors
Imago Venues are Leicestershire's premier venue brand, combining year-round conference venues and hotels with Loughborough University's campus facilities.

They provide high-quality meeting spaces, venues and accommodation, along with world-leading sports and leisure facilities.
Its portfolio includes Burleigh Court Conference Centre and Hotel, Holywell Park Conference Centre, The Link Hotel, the Elite Athlete Centre and Hotel, and Loughborough University campus.
Multi-award winning venues including M&IT Gold for Best Academic Venue, Best UK Conference Centre, Best F&B Supplier, and Best Training Venue at the Academic Venue Awards.
Imago Venues are a wholly owned subsidiary of Loughborough University and Gift Aid their profits back to the University, contributing over £1m per year towards research and academic excellence on campus.
Imago Venues is part of The 5% Club which is a movement of more than 800 employers providing 'earn and learn' opportunities to develop the skills and talents people need to become more employable and create meaningful careers.
Subscribe to our newsletter