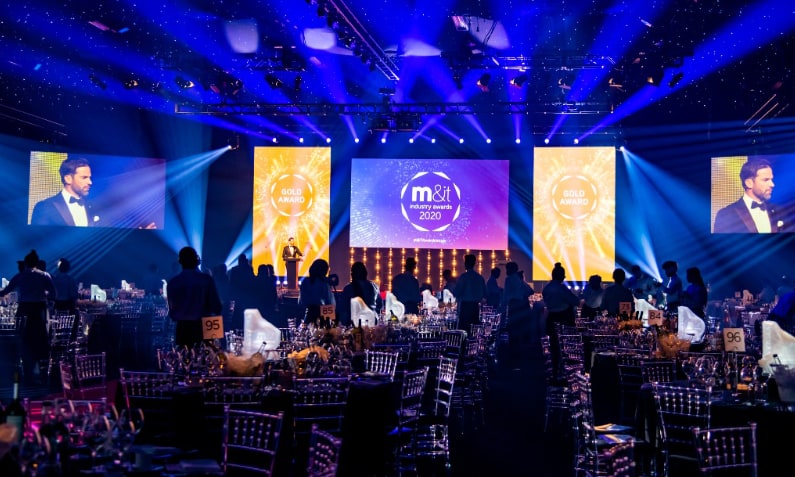 Imago Venues win big again at the M&IT Awards
1 Mar 2020
Imago Venues at Loughborough University is celebrating after a clean sweep in the M&IT Awards 2020, where they took 3 gold awards in every category they were nominated for.
Organised by Meetings & Incentive Travel magazine, the awards are the event industry's biggest and most prestigious recognition programme.
Imago Venues' flagship venue, Burleigh Court Conference Centre and Hotel, won the following awards:
Best UK Conference Centre, gold award

Best Academic Venue, gold award
Best Food and Beverage Supplier, gold award
Emma Boynton, Head of Sales and Marketing at Imago Venues, said:
To be shortlisted again for three awards was itself a great achievement, but to improve on last year's performance by taking gold in every category is a massive accomplishment. These awards are the most prestigious in our industry as they are voted for by our customers and the competition are the best venues in the country so, naturally, we are very proud and humbled. This means that Burleigh Court has now been named Best UK Academic Venue in three different awards: National Venue Awards, Academic Venue Awards and the M&IT Awards. To top that off with Best UK Conference Centre is incredible and is testament to the hard work and professionalism carried out by every single member of staff at Imago Venues. Without them, we wouldn't be where we are now."
This financial year, Imago Venues have also won 3 awards at the Academic Venue Awards and picked up silverware at Venues of Excellence's Cook and Serve Awards which is the Masterchef of the conference venue world. The M&IT Awards are even more special as they are voted by actual customers who have experienced the facilities and service first-hand.
Maria Voller, Marketing Communications and Events Director of CAT Publications, said:
"The M&IT Awards recognise excellence in service or product and are voted for by the readers of Meetings & Incentive Travel (M&IT) magazine. "Votes are only accepted from UK-based event organisers and are independently audited by the Audit Bureau of Circulations (ABC). There is no shortlist to select from, these are votes placed individually by the voters, so to win at these awards is something truly to be proud of. Many congratulations to Imago Venues for their success at the M&IT Awards 2020."
This success comes at a significant time for Imago Venues as it prepares for a major refurbishment of the conference wing at Burleigh Court Conference Centre and Hotel. Due to start in June this year, the refurb will see the complete overhaul of 8 main training rooms and 5 syndicates, where the design has kept true to the main purpose of training by increasing the amount of natural daylight.

Notes for editors
Imago Venues are Leicestershire's premier venue brand, combining year-round conference venues and hotels with Loughborough University's campus facilities.

They provide high-quality meeting spaces, venues and accommodation, along with world-leading sports and leisure facilities.
Its portfolio includes Burleigh Court Conference Centre and Hotel, Holywell Park Conference Centre, The Link Hotel, the Elite Athlete Centre and Hotel, and Loughborough University campus.
Multi-award winning venues including M&IT Gold for Best Academic Venue, Best UK Conference Centre, Best F&B Supplier, and Best Training Venue at the Academic Venue Awards.
Imago Venues are a wholly owned subsidiary of Loughborough University and Gift Aid their profits back to the University, contributing over £1m per year towards research and academic excellence on campus.
Imago Venues is part of The 5% Club which is a movement of more than 800 employers providing 'earn and learn' opportunities to develop the skills and talents people need to become more employable and create meaningful careers.
Subscribe to our newsletter