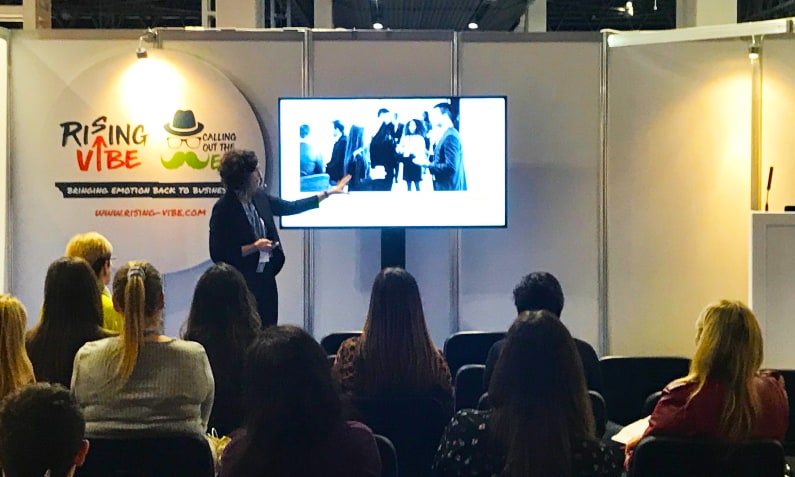 Imago Venues and Professor Elizabeth Stokoe deliver seminar on 'How to Network' at World Of Learning Conference and Exhibition
17 Oct 2019
Shedding the light on the black box of networking communication
We know a great deal about how to network at meetings, corporate events, and conferences; at least there is much popular psychology and self-help about managing these sorts of encounters. We are advised to ask particular questions, make 'small talk', and build rapport quickly with new colleagues. However, we actually know very little about how people actually 'network', when it comes to the real practices that comprise initial encounters.
In the seminar at World of Learning Exhibition, Prof. Elizabeth Stokoe - world leading expert in her field - presented findings from observational research commissioned by Imago Venues. Using a method called 'conversation analysis', she showed what works and what is less effective in 'real world' networking situations. The seminar also discussed the implications of the research analysis for those organising events as well as those attending them.
The full research paper is available to download and includes top tips for people to be better at networking.
Download the research
Notes for editors
Imago Venues are Leicestershire's premier venue brand, combining year-round conference venues and hotels with Loughborough University's campus facilities.

They provide high-quality meeting spaces, venues and accommodation, along with world-leading sports and leisure facilities.
Its portfolio includes Burleigh Court Conference Centre and Hotel, Holywell Park Conference Centre, The Link Hotel, the Elite Athlete Centre and Hotel, and Loughborough University campus.
Multi-award winning venues including M&IT Gold for Best Academic Venue, Best UK Conference Centre, Best F&B Supplier, and Best Training Venue at the Academic Venue Awards.
Imago Venues are a wholly owned subsidiary of Loughborough University and Gift Aid their profits back to the University, contributing over £1m per year towards research and academic excellence on campus.
Imago Venues is part of The 5% Club which is a movement of more than 800 employers providing 'earn and learn' opportunities to develop the skills and talents people need to become more employable and create meaningful careers.
Subscribe to our newsletter