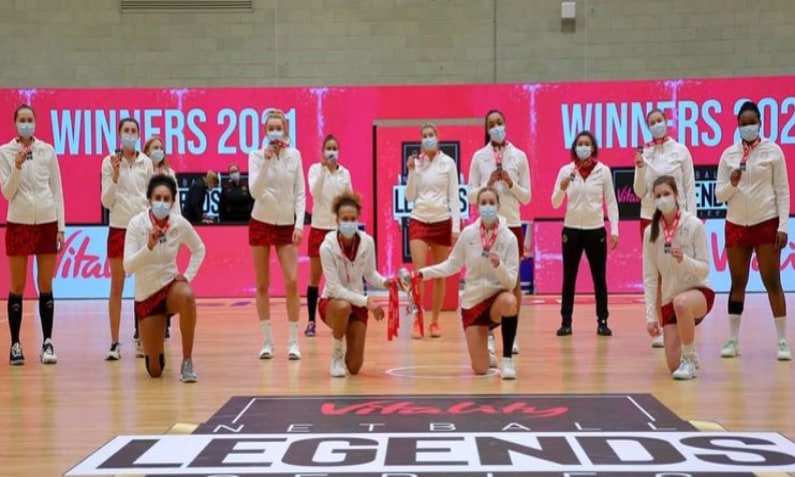 Our Covid measures 'Get The Pass' from Vitality Roses
11 Mar 2021
Throughout the pandemic, we have never fully closed and have been operating safely for essential workers and elite sport activities. Our comprehensive safety measures have been tried and tested by satisfied customers and we are also certified 'Covid-safe' by the Meetings Industry Association's AIM Secure accreditation.
We were extremely proud to welcome Vitality Roses to Burleigh Court in January - right in the thick of the 3rd national lockdown. We're very lucky to be part of the world-leading sports performance facilities at Loughborough University and this has given us a bit of a lifeline during a period when most hotels and venues have had to stay closed. Given that elite sporting activity has been permitted throughout the pandemic, we were thrilled to host the team for their preparations. But it was also of huge benefit to the team too, as Head Coach Jess Thirlby points out: "It helps support preparations for Birmingham next year (Commonwealth Games), but also helps keep netball at the front and centre of everyone's minds at such challenging times."
'The Roses' stayed at Burleigh Court during their three-match Vitality Netball legends series against the Vitality Netball Superleague All-Stars. Originally set to compete against Jamaica's Sunshine Girls, travel restrictions forced a change of plan and the All-Stars stepped in to face England's finest! But perhaps they wish they hadn't as the Roses won with three straight victories! (All games were broadcast on Sky Sports Arena/Mix and Youtube if you would like to watch the girls in action)

Strict COVID safety measures both on and off the court were paramount to ensuring player and staff safety. In an interview for England Netball, Goal Defence Fran Williams mentioned the safety precautions involved whilst staying at Burleigh Court. Fran advised that all players and staff were tested straight away and isolated in their allocated room until they received their negative test results. Once they received their results, they formed their bubbles but still isolated in hotel rooms for extra precaution.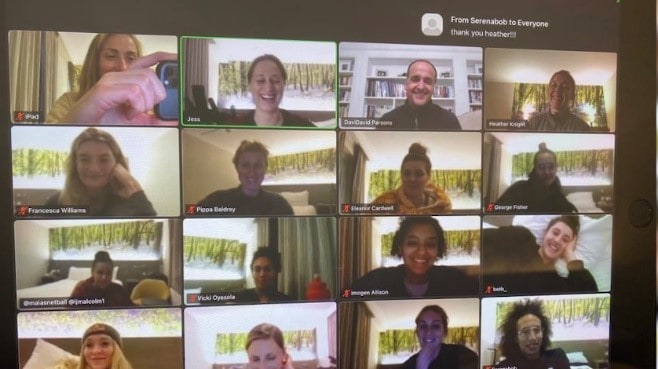 According to Burleigh Court Hotel Manager, Mike Hart, the venue went above and beyond the Government guidance for elite training venue hosts to ensure the team was not only safe but that they felt truly safe. Some of the extra measures put in place included:
Allocating the team a separate wing of the hotel to keep their bubble more secure
Private entrance/exit was allocated to the team to avoid other hotel users
High-end meals delivered to rooms as part of their tailored nutrition plan
Socially distanced meeting rooms
Performance Operations Manager & Vitality Roses Team Manager, Paul Dring, has thanked all the staff at the hotel for looking after the team and for making "what could have been a very difficult stay very enjoyable".
I think we all felt it was going to be very tough staying 17 nights in a hotel room and only really leaving to go to training, but everyone really enjoyed the event. Hotel staff were incredibly helpful, both before and during our stay, making sure we had everything we needed and accommodating last-minute requests for changes in food service or menu choices etc. We felt really well looked after.

On behalf of the team, I just wanted to say a huge thank you to Burleigh Court for looking after us over the last 3 weeks. You were all absolutely incredible throughout our stay and made what could have been a very difficult stay very enjoyable.

Please pass on our thanks and appreciation to all staff for being so helpful, accommodating and always greeting us with friendly enthusiam when they knocked at our door (I'm sure they were smiling too behind their masks!).

We will be back later in the year, hopefully in more normal conditions.


Paul Dring - England Netball Performance Operations Manager & Vitality Roses Team Manager
For us, ensuring customers can continue as normal as possible, despite unprecedented circumstances, is essential. It's fundamental to our ethos of fantastic customer service. Whether that be elite athletes preparing for competition, or key workers attending essential training, the measures we have in place go beyond the Government's safety guidelines to ensure all customers can feel safe and secure.
But more than that, potential customers can take comfort in knowing that our facilities and procedures have been tried, tested and TRUSTED.
---
For more detail on our Covid safety measures, download our Safe In Our Hands document below:

Download Safe In Our Hands (pdf)
Notes for editors
Imago Venues are Leicestershire's premier venue brand, combining year-round conference venues and hotels with Loughborough University's campus facilities.

They provide high-quality meeting spaces, venues and accommodation, along with world-leading sports and leisure facilities.
Its portfolio includes Burleigh Court Conference Centre and Hotel, Holywell Park Conference Centre, The Link Hotel, the Elite Athlete Centre and Hotel, and Loughborough University campus.
Multi-award winning venues including M&IT Gold for Best Academic Venue, Best UK Conference Centre, Best F&B Supplier, and Best Training Venue at the Academic Venue Awards.
Imago Venues are a wholly owned subsidiary of Loughborough University and Gift Aid their profits back to the University, contributing over £1m per year towards research and academic excellence on campus.
Imago Venues is part of The 5% Club which is a movement of more than 800 employers providing 'earn and learn' opportunities to develop the skills and talents people need to become more employable and create meaningful careers.
Subscribe to our newsletter