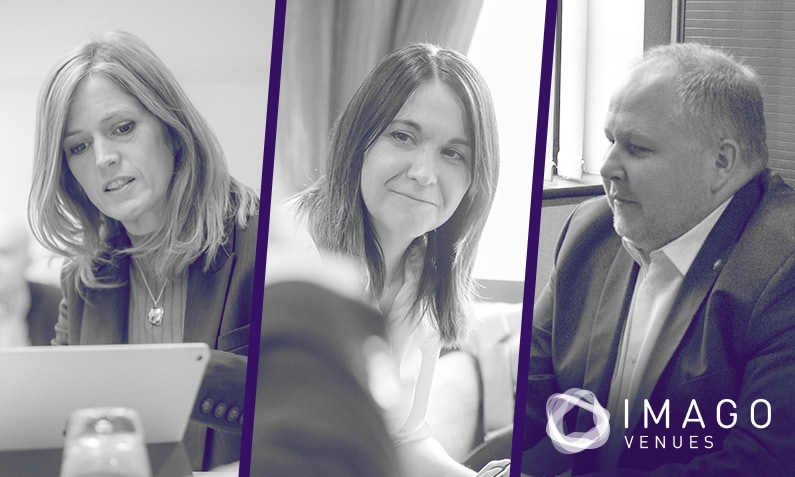 Imago Venues make new senior appointments
15 Aug 2022
Leicestershire's premier venue portfolio announce new leadership structure.
As part of its continuing strategy to deliver a business where people love to be, Leicestershire venue portfolio - Imago Venues - has today shared the following new appointments:
Viv Wardle will move to the position of Finance Director; Emma Chamberlain moves to Commercial Director; and Steve Powell to Operations Director.
Viv Wardle will continue to manage all financial aspects of the business as well as developing all Management Information requirements, delivering capital plans, supporting on key projects and focusing on profit improvement.
Emma Chamberlain also takes on a wider remit, seeking to unlock significant revenue opportunities as part of Imago's strategy to innovate and grow. She will work in tandem with Viv Wardle, ensuring best practice in procurement, developing key strategic partnerships, and being instrumental in Imago's capital programme.
Steve Powell will drive the portfolio's Mission to consistently deliver fabulous meetings, dining and sleep; growing a strong team who will be able to execute a new operating plan that Steve will implement across all venues. He will work with Emma Chamberlain to successfully unlock new business opportunities and make Imago Venues an employer of choice.
Spencer Graydon, Chief Executive of Imago Venues, commented:
"This is an exciting time for Imago Venues. We are committed to making this business a place where people love to be; a business that is caring, kind, sustainable, ambitious, accountable, and ethical. These senior moves reflect their hard work, achievements, and committment to the business and signal our intent to grow our people, develop, and realise opportunities as they present themselves. It will help us realise our commitments and I wish Viv, Emma, and Steve every success."
(ends)
Notes for editors
Imago Venues are Leicestershire's premier venue brand, combining year-round conference venues and hotels with Loughborough University's campus facilities.

They provide high-quality meeting spaces, venues and accommodation, along with world-leading sports and leisure facilities.
Its portfolio includes Burleigh Court Conference Centre and Hotel, Holywell Park Conference Centre, The Link Hotel, the Elite Athlete Centre and Hotel, and Loughborough University campus.
Multi-award winning venues including M&IT Gold for Best Academic Venue, Best UK Conference Centre, Best F&B Supplier, and Best Training Venue at the Academic Venue Awards.
Imago Venues are a wholly owned subsidiary of Loughborough University and Gift Aid their profits back to the University, contributing over £1m per year towards research and academic excellence on campus.
Imago Venues is part of The 5% Club which is a movement of more than 800 employers providing 'earn and learn' opportunities to develop the skills and talents people need to become more employable and create meaningful careers.
Subscribe to our newsletter