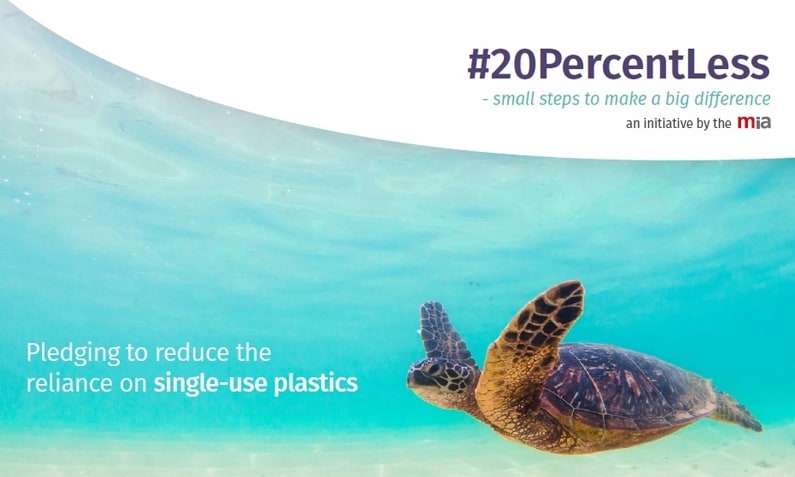 Pledge signed to reduce single-use plastics
7 Aug 2019
Imago Venues at Loughborough University has signed a pledge committed to reducing single-use plastics.
The #20PercentLess pledge – launched by the MIA (Meetings Industry Association) - encourages the UK business meetings and events industry to reduce single-use plastic by a minimum of 20% each year until 2025.
Imago Venues already has initiatives in place to help the environment, such as an Environment Champions working group, where staff are encouraged to share ideas of how the venues can be more environmentally friendly.
Emma Boynton, Head of Sales and Marketing at Imago Venues, said:
"We felt it was important to sign the pledge to show our staff, the community and our customers, that we are dedicated to making a difference.
"We are on a constant drive to encourage a strong green ethos across all our properties and to improve our systems.
"We are also proud to be an ISO 14001 accredited organisation - an international standard that demonstrates to company management and employees, as well as external stakeholders - that environmental impact is being measured and improved."
To find out more information about the campaign visit www.mia-uk.org/20percentless
Notes for editors
Imago Venues are Leicestershire's premier venue brand, combining year-round conference venues and hotels with Loughborough University's campus facilities.

They provide high-quality meeting spaces, venues and accommodation, along with world-leading sports and leisure facilities.
Its portfolio includes Burleigh Court Conference Centre and Hotel, Holywell Park Conference Centre, The Link Hotel, the Elite Athlete Centre and Hotel, and Loughborough University campus.
Multi-award winning venues including M&IT Gold for Best Academic Venue, Best UK Conference Centre, Best F&B Supplier, and Best Training Venue at the Academic Venue Awards.
Imago Venues are a wholly owned subsidiary of Loughborough University and Gift Aid their profits back to the University, contributing over £1m per year towards research and academic excellence on campus.
Imago Venues is part of The 5% Club which is a movement of more than 800 employers providing 'earn and learn' opportunities to develop the skills and talents people need to become more employable and create meaningful careers.
Subscribe to our newsletter