Why now is the time to reinvest in staff training
In the wake of an unprecedented global pandemic, the instinct of many business leaders has been to reduce training budgets for employees. It's an understandable reaction, but these short-term decisions could have much longer-term negative financial implications.
Given the number of people either made redundant or furloughed since March 2020, many remaining employees have been filling multiple roles and have likely been critical to business survival. It seems obvious that, if businesses are to adapt to market conditions and maintain productivity, they need to support their people. But, with many industries having been crippled by lockdowns or business cancellations, most businesses will have been frantically scrambling to adapt and reprioritise, whilst still trying to protect their employees and market position. Faced with a Hobson's choice where budgets simply have to be reduced and cash flow redirected to the highest priority, it's no surprise that Training Industry polling found that 65% of Learning and Development spending has been affected by the pandemic, with nearly 40% saying they are spending less.
There's no precedent for what the economy is facing and we likely haven't begun to see the true financial impact of lockdowns. However, there is proven research into what will benefit your company both now and longer term as the economy recovers. Research shows that one of the best investments you can make right now is in continued employee development, which is probably why 32% of Training Industry's survey respondents report rolling out new training programs as a result of the pandemic. In addition to boosting productivity and morale, it helps with succession planning, business continuity and also narrows a widening skills gap.
If businesses cut their training budgets now, they're only delaying their inevitable investment, not making a net saving, especially since this pandemic will need a much larger skills shift than say the 2008 financial crisis. Instead, investing in training now to build skills will be a key strategic lever to adapt your business to market conditions. Don't waste two or three years now and forfeit the resilience you could have been developing - it could very well be the key to business survival.
The Importance Of Training
"The only thing worse than training your employees and having them leave is not training them and having them stay."
Henry Ford
Retaining talent - training plays a key role in boosting employee loyalty and retention rates. Implementing a training scheme will improve your reputation and retention rates, setting you apart from other organisations in your field.
Increasing productivity - Equipping your team with the tools they need to enhance their skills keeps them engaged, satisfied in their job, and valued within the company. Investing in them gives your business the right knowledge to succeed, boosts efficiencies and enhances team performance.
Competitive advantage - Showing a commitment to employee development highlights the positive culture of a business and is a great way to attract the best candidates to your business instead of your competitors.
Employee loyalty - Investing in your team's development makes them feel valued and appreciated which, in turn, fosters loyalty. When employees can see they are being invested in, they know you are on their side and are much more likely to repay you with their loyalty.
Market flexibility - Investing in training your people can make your company much more agile to react to changing market conditions. Well-trained staff are more confident to adapt their skills as required which ensures company success in the long run.
Boost profitability - Businesses that invest in training generate greater productivity levels, as well as higher margins and higher revenue per employee, which goes directly to your bottom line.
Investing in training, learning and development now will make your business more resilient and better prepared to succeed in uncertain economic waters. Putting a hold on training and development could leave your business ill-prepared for the challenges your business - and your people - will face in the future.
As the adage goes, catching up costs a lot more than keeping up.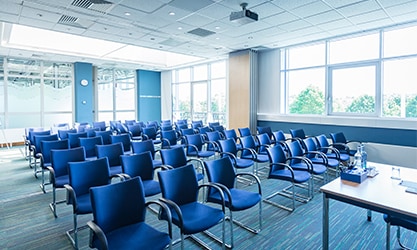 Find the perfect learning space
We provide professional training rooms for all styles and sizes of training events from graduate training schemes to leadership management courses and year-round corporate training.
Training rooms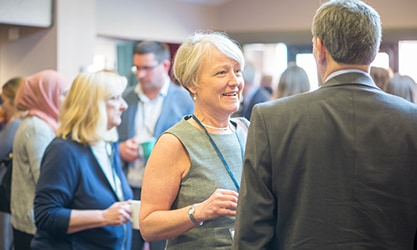 Meeting Made Easy
We know the value of face-to-face meetings in helping teams build relationships and communicate effectively. That's why our simple Event Calculator is designed to make it as easy as possible for you to bring your people together.
Event Calculator
Enjoyed this content?
Check out our #GoPerform Content Hub for more tips, tricks and tidbits for event professionals.
Explore more content