Covid-safe venues - What to look for
We're all desperate to get back to meeting eachother and for the conference and events world to get back to normal. It's natural for organisers to be cautious when looking at new events and you must be entirely satisfied that the venue is safe. The last thing anyone wants is complacency that can lead to further transmission and longer lockdowns.
With that in mind, here is our checklist of the important things you need to look for in a Covid-safe conference or meeting venue:
Make sure a Covid-19 response plan or risk assessment is in place which is regularly reviewed and updated
Make sure the risk assessment is being regularly reviewed to reduce risk
Ask if the venue has written policies in place for cleaning and disinfection, social distancing, revised capacity, PPE, contact tracing, along with temperature checking of staff and customers when required.
Make sure that your contract contains an updated pandemic clause and that any relevant insurance policies are updated
Ensure that risk assessments are carried out for each event with regard to social distancing and personal safety and ask to be kept informed of these procedures
Make sure that the venue's procedures in the event of an infection outbreak have been identified and are communicated to organisers and staff
Request to have a briefing with organisers on the venue's safety measure upon arrival
Ask the venue to provide an electronic copy of the safety measures that you can distribute to delegates in advance
Make sure that high touch-point areas have been identified, and that cleaning is carried out frequently and recorded
Identify any "pinch points" during your event and ensure they are monitored by managers to reduce the transmission risk
Make sure the venue's cleaning schedules are in place using appropriate cleaning products and are checked by managers
Delegate post-event contact information should be requested by the venue and fed into the Track and Trace procedure
Look if the venue have got signage or collateral to inform delegates of cleaning and disinfecting procedures
Clarify whether venue staff are trained to respond to delegate's questions regarding infection in the venue
Ensure the venue's staff (including outsourced staff) are trained on safe working practices such as disinfection procedures, safe use of PPE, social distancing and hand-washing
Check that venue staff are wearing PPE as identified in the risk assessment and are wearing it properly
Ask the venue to clarify that sanitiser points are available in the back of house areas and that staff are reminded of hand washing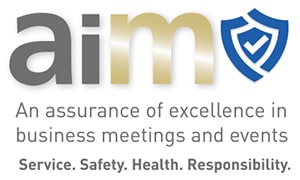 Imago Venues have been awarded the Meetings Industry Association's "Aim Secure" accreditation.