LEVY-FUNDED SENIOR LEADER APPRENTICESHIPS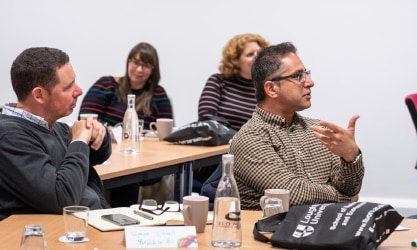 Why choose Loughborough as your apprenticeship provider?
The Business School at Loughborough University has substantial experience in the delivery of professional education programmes. The development of leadership talent is crucial in any sector.
We will work with you to grow the specific talent needed in your organisation.
Since the introduction of the Apprenticeship Levy the Loughborough Business School has been supporting organisations to provide Senior Leader Apprenticeships. Whether you are an employee looking to widen your knowledge and skills or an organisation identifying a need to up-skill your workforce, we have everything you need to develop yourself and your employees.
We are a leading university provider of apprenticeships with a proven record of success. This is based on our strong partnerships with our employers, creating programmes to meet specific business needs. To date we have partnered with over 100 employers to deliver Senior Leader Apprenticeships including Nationwide, Anglian Water, Network Rail, and Scania.
Loughborough is proud to hold triple accreditation:
The Association to Advance Collegiate Schools of Business (AACSB International)
EQUIS accreditation from the European Foundation for Management Development (EFMD)
The Association of MBAs (AMBA)
WHY THE SENIOR LEADER APPRENTICESHIP?
By offering a Senior Leader Apprenticeship programme your organisation will be able to:
have a cost-effective way of attracting, training and retaining high-calibre employees to your business
address important skill gaps and create opportunities for meeting the strategic needs of the business through focused learning
increase the diversity and social mobility of your workforce
utilise purpose-built, award-winning training venues (Holywell Park voted UK's Best Training Venue in AVA awards)
empower, value and motivate emerging leaders, enabling them to succeed
utilise tangible benefits within your organisation including • Analysing and applying value-based decision making • Managing ambitious innovative projects • Leading teams through strategic change whilst considering risk and governance issues
The Senior Leader Apprenticeship, MSc in Strategic Leadership has been a fantastic opportunity to consolidate and formalise my career experience. It has enabled me to broaden and raise my understanding of business and organisational contexts in aspects I wouldn't have easily accessed in my work role. It has also opened the door to wider internal and external networks and given me the confidence, skills and opportunities to challenge and contribute within my own organisation, and that of my clients, in a more informed and strategic way.

Alex Molotnikoff
Principle Consultant Organisational Excellence, Gobeyond Partners
Contact us about you training plans: