Our Vision and Values
OUR VISION
​To create a place where people love to be.
OUR MISSION
​To create a world-class business that consistently delivers fabulous meetings, dining and sleep.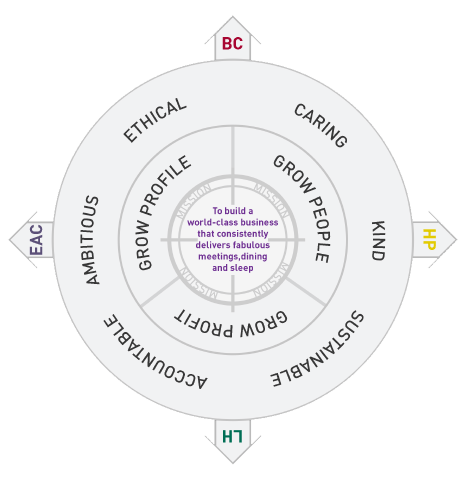 VALUES:
KIND
We're kind to each other and think of ways we can help each other and our guests on a daily basis.
CARING
We care about our guests, our teams, and our company because caring means actually doing something positive.
SUSTAINABLE
We take decisions that are sustainable, not just to preserve our environment, but to make our business fit for the future.
ACCOUNTABLE
Every one of us is a decision maker empowered to do what we feel right for our guests and own those decisions.
AMBITIOUS
We're ambitious with our ideas to enable ourselves and our business to grow and make great experiences for us and our guests.
ETHICAL
We conduct ourselves and our business in an ethical way and make decisions because they are the right ones to make.