Brand Guidelines
VENUES THAT CONNECT
Our brand is about people.
We bring people together and provide the right environment for communication and learning to flourish and grow.
We're proud to be one of the country's leading conference brands and our portfolio of award-winning venues provides high-quality meeting space, accommodation, and world-leading sports performance facilities. With excellent customer service at the heart of everything we do, we're more than just a facilitator of a product - we create outstanding experiences for our guests.
Our brand is our identity; it's all about who we are, our personality, what we care about and what our customers can expect from us. It's important that our values and commitment to excellence are consistently reflected in our communications and visual identity.
Download Brand Guidelines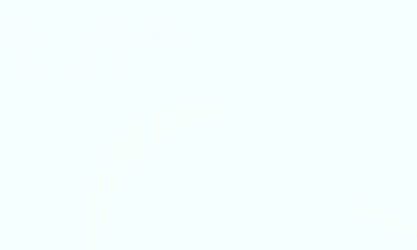 Our Logo
The main part of our logo is the motion icon that represents the individual sub-brands of our venue portfolio coming together as "venues that connect". It shows the connection between our venues and the flexibility of our offering, representing our purpose of connecting people.
The icon is fluid and organic, representing the movement and vibrancy of the environment and industry we operate in.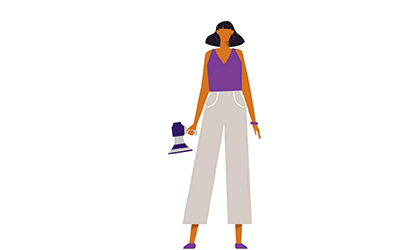 Our Voice
First impressions of our brand are formed by our tone of voice. What we say shows our friendliness, expertise and that we invest in people. Our communications reflect our people, our personality and our confidence in what we offer.
Our tone of voice is not what we say, it's how we say it. If what we say reflects our personality and standards, customers know what to expect, are trusting of what we say and confident in what we offer. It's not about the products we sell, but the stories we tell.
Download our Writing Style Guide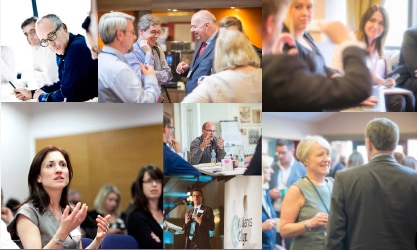 Our Story In Picture
Storytelling is key to our approach and our photography looks to capture moments in time. Our imagery tells a visual narrative and conveys not the person, but what the person is doing. Images are never "staged" and are shot in a 'reportage' style capturing the mood and event as candidly as possible in an unobtrusive manner.
They use natural lighting and evoke an essence of Imago Venues, our values and our promise.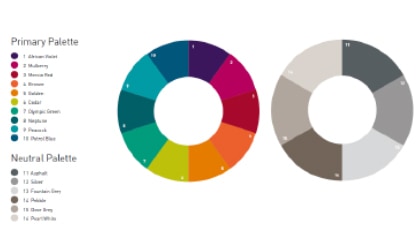 Our Colours
Our brand colours share the Loughborough University colour palette to show our belonging as a subsidiary company of the University. It gives a subtle sense of familiarity with our parent company and a suggestion of our integrity and credibility as a brand. The primary palette is a suite of colours that give the individual venues a varied and exciting look, whilst being part of the same family to help with flexibility and legibility.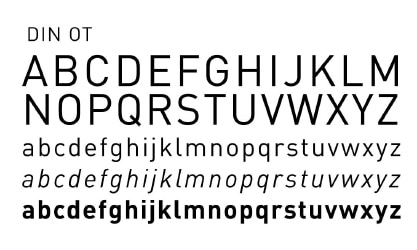 Our Font
Our font is DIN OT (and DIN Round). The history of this sans serif typeface dates back to the early 1900's where it became a standard font on the Prussian railways. DIN is an acronym for Deutsches Institut für Normung, which translates to English as the German Institute for Standardisation. The typeface became a standard for traffic signs, street signs, house numbers and license plates.
Synonymous with 'standards', this font reflects our consistent standards and commitment to excellence in everything we do.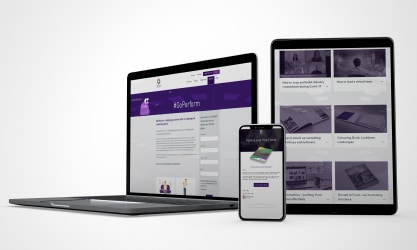 Our Content
With 30 years experience in our field, we know how people interact, network and build relationships with each other. That's why we're well placed to show how both individuals and event organisers can make more of these interactions and provide the right space and time for them to happen. We're also uniquely able to tap into leading academics at Loughborough University whose research can help individuals to be better prepared whilst away on business events and be the best they can be.
By sharing this knowledge, we can help both event organisers and individual delegates perform better and make more engaging events.
#GoPerform Content Hub

Our Mascot
Meet 'Patch', our friendly performance bot.
It's Patch's job to help event professionals perform better in their roles by connecting (or 'patching') them to great tips, guidance and research on the things that matter to them.
Wherever you see our #GoPerform content, Patch won't be far away! From virtual site visits to hotel room workouts, Patch is there to help you be the best you can be.